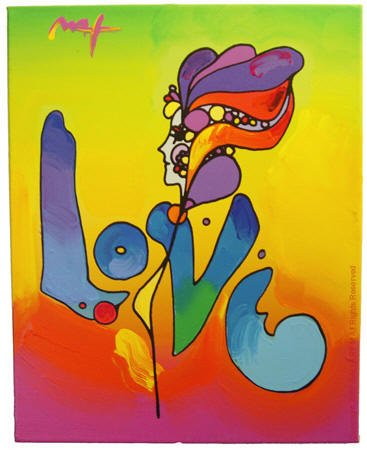 A psychedelic pop pioneer, artist Peter Max deftly captured the visual zeitgeist of the Sixties – the groovy colors, the hippie-trippy swirling visuals, the bell-bottomed, flowing paisley fashions – and parlayed his talents into an astonishingly lucrative career of graphic design. Drawing on London fashion maven Mary Quant's mod-inspired flower power and Florentine fashion designer Emilio Pucci's new romantic kaleidoscopic color block fabric prints, Max was more 'factory' than his peer Andy Warhol (minus Warhol's celebrity scene, though), churning out, via mass production, vibrantly hued posters thanks to an innovative four-color printing process.
Commercial commissions flooded in. From dreamy-cool and childlike animated TV ads for 7-Up soda to illustrated products for General Electric, Max produced pop up pop art and in three short years managed to accrue a whopping seventy-two licensing deals with major corporations. Producing merchandise such as swimsuits, electric guitars, sneakers, socks and clocks, his numerous lines of products went on to generate more than $1.9 billion in retail sales. Not bad for a creative cat in the swinging sixties! No wonder his disembodied face grinned from the cover of Life Magazine in 1969, subtitled with an ironic nod to James Joyce, 'Portrait of the artist as a very rich man.'
Producing innumerable artworks, on canvas, paper or board, for the past six decades (and counting) 75-year-old Max just keeps doing what he loves. "I've got plans for the next hundred years!" His paintings are constantly being exhibited. "Every weekend I go to a different city and have an art show. I've had fifty or so one-man art shows in the biggest museums in the world."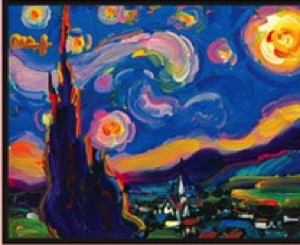 As for the price range of his works, Max claims, "I don't remember any more, because I'm not so much into that… They can go from $7k—10k for the smaller works on paper to $40k—70k for very large pieces." Max says he also has quite a few paintings in his studio gallery in New York that sell for a cool million. "I get those kinds of prices," he murmurs.
Throughout the decades his style has evolved from psychedelic rainbow cosmic pop art to illustrated photographs, each energetically swiped with splashes of vibrant colors. Brimming with deliriously happy swirls, a touch of whimsy endures in all of Max's distinctive works. "Style has an evolution of its own. Sometimes when I lift my brush, it's a certain mood or the music I'm listening to that drives me."
His 'New Masters series,' include interpretive works of Vincent van Gogh (his self portrait), Monet, Pablo Picasso, Renoir and Edgar Degas (ballerinas) – all conceived in Max's signature flowing style and brilliant day-glo colors. On exhibit at Gallery 319 during February, other works on display illustrate the breadth of his career, including his famed "Flag" and majestic "Statue of Liberty" series, as well as a selection from the countless celebrity portraits he's painted, which include the past seven U.S. presidents.
These days Max works exclusively from photographs. Despite his formal art training at the Art Students League of New York in Manhattan during the fifties, studying anatomy, figure drawing and composition, Max has never worked with live models. "That was a hundred years ago," he laments. "People don't sit any more for artists. I've painted major, major celebrities and political figures. I've been very, very lucky. You hang out with them, have coffee for hours, but when you paint them, you do it in a studio by yourself from a photograph."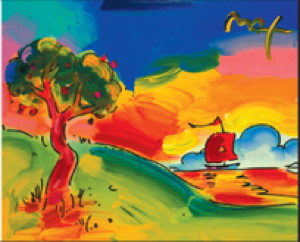 At Max's bustling Brooklyn atelier, he reportedly has close to fifty people on staff archiving his output, handling commissions, sales, interview requests and gallery appearances and even prepping canvasses for the maestro to swoop in and flamboyantly daub. Max also has a full-time music supervisor/DJ assisting him with music selection for an upcoming series of animated movies. Many people erroneously associate Max with The Beatles' animated concoction 'Yellow Submarine' but despite his personal association with the Fab Four, Max did not work on the feature film. (It was art directed by Heinz Edelmann.) Max has seven full-length animated features of his own in development. "Each are individual. They're all Peter Max. Stories I can tell from morning 'till night – I'm a storyteller in my art." The irrepressible artist laughs, "I have enough visuals for 1,000 films!"
This interview first appeared in  Ventura Blvd magazine, February/March 2013 issue, as per photo below.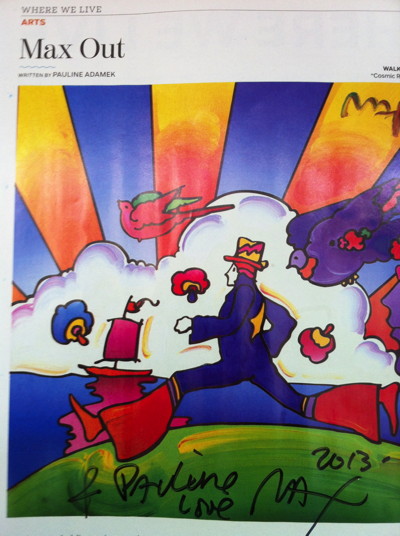 Peter Max's 'New Masters series' collection and other artwork was both on exhibition and available for acquisition at Gallery 319 in Woodland Hills from February 6th, 2013 – February 17th, 2013.
To purchase prints or make inquiries regards the purchase of paintings, visit the official site for Peter Max.
To read more articles from Ventura Blvd magazine,
go here.