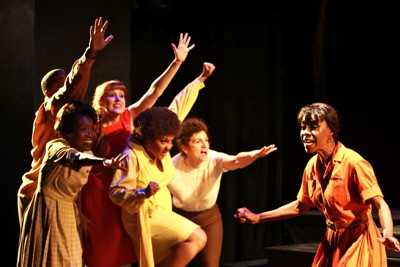 Hello readers! This week my theater review for the LA Weekly is of To Be Young, Gifted And Black, now playing at the Actors Co-op in Hollywood.
Click here to go to the LA Weekly's theater page and scroll down a little bit to find it.
~ OR ~
You can just read it here!!
Happy reading!
To Be Young, Gifted And Black
Robert Nemiroff has taken some excerpts from diaries, political speeches and letters written by his former wife, Lorraine Hansberry, and combined them with scenes from her plays to assemble a sketch of the life, work and intelligence of this important and idealistic American playwright.
To Be Young, Gifted and Black, however, is not a play. Rather, it is a series of staged monologues and duologues, with the cast of eight each taking their turn in a spotlight on simple risers. The subject matter is worthy and intellectual, and some of the excerpts are impassioned and impactful.
It's largely serious with a few comedic observations sprinkled throughout, yet the staging and general tone of the evening are dull and slow. Additionally, ill-timed and sluggish lighting cues, along with perplexingly random sound effects, drag the show's length to two and a half hours.
The cast all give fine if restrained performances, with some singing beautifully. Greyson Chadwick shines in a handful of dramatic and emotional scenes.
To Be Young, Gifted And Black
1760 N. Gower St.,
Hollywood.;
Fri.-Sat., 8 p.m.;
Sun., 2:30 p.m.;
Sat., Feb. 16 & March 16, 2:30 p.m.
Runs through March 17.
Box office (323) 462-8460