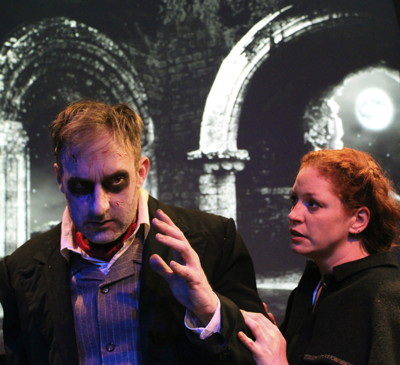 Gentle readers! This week my theater review for the LA Weekly is of Von Bach, a spoofy parody of the Frankenstein myth, now playing at Fremont Center Theatre in South Pasadena.
Click here to go to the LA Weekly's theater page and scroll down about 1/3 of the way towards the bottom to find it.
~ OR ~
You can just read it here!!
Happy reading!
Von Bach
Plenty of writers have mined the comedic vault of Mary Shelley's Frankenstein tale to great effect. With his comedy Von Bach, writer Owen Hammer manages to send up both the countless horror classics the story begat as well as the parodies, in his own re-imagining of Shelley's myth.
Modern screenwriter Minna McPheeters (Maia Peters) is impassioned to script the definitive film based on a mad scientist, but comes up against a venal producer, Hilary (Summer Stevens), and a litigious heir, Conner (David Wilcox). Worse, she runs into the reanimated corpse of the guy on whom all these movies are based — Dr. Von Bach himself (a suitably Lurch-like JR Reed).
Hilarious and well-crafted short film segments nicely mask the numerous scene changes and flashbacks. Unfortunately, the high caliber of the cinematic bits soon begins to outshine the complex story that's unfolding somewhat prosaically on stage. Hammer, however, strikes a poignant note by having Von Bach reference an Emerson quote: that when you commit a crime, "the world is made of glass."
Von Bach
Owen Hammer's comedy, directed by Scott Rognlien.
Saturdays, 8 p.m.; Sundays, 3 p.m.
Continues through March 10, 2013.
866-811-4111.
1000 Fremont Ave., South Pasadena.