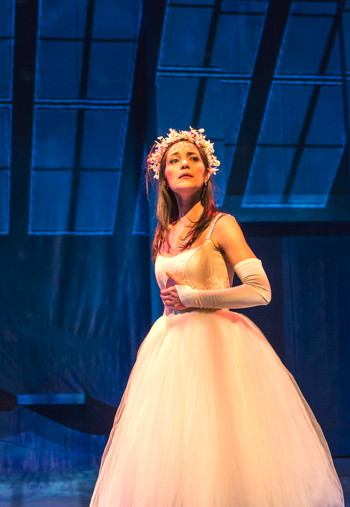 Hello dear readers!
This week my theater review for the LA Weekly is of Sarah Ruhl's surreal take on a Greek myth, Eurydice, now playing at A Noise Within in Pasadena.
Click here to go to the LA Weekly's theater page and scroll down a little bit to find it.
~ OR ~
You can just read it here!!
Happy reading!
Eurydice
Playwright Sarah Ruhl's melancholy and slightly surreal drama is a whimsical take on the classic Greek myth of Orpheus, the divinely inspired musician who defied nature and descended into Hades to retrieve his slain wife.
This exciting modern interpretation shifts the emphasis throughout the story from Orpheus (an impassioned, romantic Graham Sibley) to Eurydice (a beautiful naïf, Jules Wilcox).
Quickly establishing the besotted state of the young betrothed lovers with adoring banter, Ruhl's dialogue is full of wistful and playful exchanges while permitting the occasional poetic flourish. Jeanine A. Ringer's dreamy blue underwater set evokes first a beach and then a drippy and damp underworld, while a wandering minstrel on violin (Endre Balogh) approximates the haunting melodies of Orpheus' lyre that bewitch the denizens of Hades.
Performances are mostly good, with Ryan Vincent Anderson charmingly menacing as the predatory and seductive "Nasty Interesting Man" and, later, Lord of the Underworld. Unfortunately, the trio of women playing the stones (famously moved by the exquisitely mournful music of Orpheus) comes across as shrill and lacking in gravitas. Nevertheless, Geoff Elliott's direction adroitly realizes his conceptual vision, right down to the presence of water and rain, both real and projected (projections by Brian Gale).
Eurydice
3352 E. Foothill Blvd.,
Pasadena.
Performances:
Sat.,March 16, 8 p.m.; Sat., March 23, 2 & 8 p.m.;
Sun., April 14, 2 & 7 p.m.; Fri., April 19, 8 p.m.;
Sat., April 27, 2 & 8 p.m.; Sun., April 28, 2 p.m.;
Thu., May 9, 8 p.m.; Fri., May 10, 8 p.m.;
Sat., May 18, 8 p.m.; Sun., May 19, 2 p.m.
Box Office:  626-356-3100