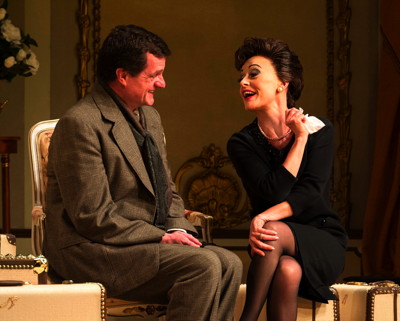 If you didn't get to see legendary actress and singer Judy Garland perform live, then a new play with music about the last days of her turbulent life may offer you the next best thing – that is, if you're okay with a cringe-worthy and exaggerated depiction of the diminutive songbird.
Towards the end of a forty-year career (she died from a supposedly accidental overdose of barbituates when she was only 47), the pill-popping, alcoholic, child-star-turned-movie-legend and recording artist certainly frequently presented a 'larger-than-life' public persona. But Peter Quilter's End of the Rainbow delivers a gross caricature of the behind-the-scenes Garland and surrounds his extreme portrayal with way too many cheap jokes and cutesy gags. In the lead role, Tracie Bennett sings amazingly, belting out some of Judy's most loved hit tunes, all in the idiosyncratic style and manner that Garland adopted in her later years as a concert performer. But Bennett's vocal affectation is perplexing; since when did Judy affect a mannered speech and intonation exactly like Kate Hepburn? Additionally, for the first 45 minutes or so of the show she annoyingly hums or almost sings snippets of her songs. It feels like a long time passes before she actually delivers a full song.
Dressed in a neat, figure-hugging black skirt and embellished black top, teamed with spiky stiletto heels (reminiscent of Coco Chanel), Bennett is also – bafflingly – a bundle of energy—bubbling with perky delivery, stand-up comedian bonhomie, lashing out with dynamic, jerky gestures and leaping about the stage, sometimes in a spastic fashion. At one point we even see her groveling on the floor, barking like a dog and dramatically throwing her leg out in faux-yoga poses.
If the real Judy Garland had had that much verve, she'd probably be alive today!
Occasionally the show slips into a maudlin slump, depicting a nervy Garland in her most needy, vulnerable and addictive states, but for the most part this is a rapid-fire, high-energy showcase swirling around a central, frenetic performance.
Rambling references are made of Garland's childhood, in particular her days working for the draconian movie studios and her grueling early days working the vaudevillian circuit, of her parents forcing her to take pills and get onstage no matter what… It's a largely hagiographic and sympathetic portrayal, even if she's shown to be an attention-seeking nut-job who thinks nothing of dodging her lavish hotel bill, insisting other people treat her to dinner or creating a scene by pretending to jump out the window and plunge to her death.
Scenic and excellent costume design is by William Dudley. The reveal of the superb big band performing upstage, as the set makes its swift transition from the hotel to the nightclub where Judy performs, was exciting. The main set is supposed to be a lavishly decorated suite in a fancy London Hotel (unnamed), but the obviously painted ornate decorations and molding somewhat undermines the intended effect.
This musical drama is as fake as the faux crystal bowl and rubber fruit that Garland hurls rather anti-climactically at the hotel wall.
Strictly for 'Friends of Dorothy.'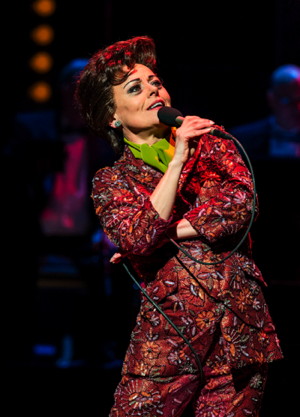 End of the Rainbow
Ahmanson Theatre
Runs through January 6, 2013