"I don't like horror movies," smiles Steve Wang, a self-taught artist and sculptor. It's a startling confession from the famed creature creator, who envisioned and then brought to life the rapacious alien in 1987's sci-fi horror flick Predator when he was barely 20 years old. For the past 27 years Wang has been designing weird and wonderful mythical creatures for Hollywood movies, TV shows and video game companies, calling on his skills as a sculptor and painter for physical (meaning practical) creations.
The imaginative guy responsible for the nightmarish monsters in Hellboy, Underworld 1 and 2, Predator, Batman Returns, Beetlejuice, Alien VS Predator: Requiem (to name a few) – and various beasts for over a hundred other films and TV shows – began with special effects makeup work back in the mid 80's.
Mentored by the legendary three-time Oscar-winning special effects supervisor and makeup artist, the late Stan Winston, Wang learned about makeup, puppets and practical effects, but soon parlayed his own prodigious talents into creature design.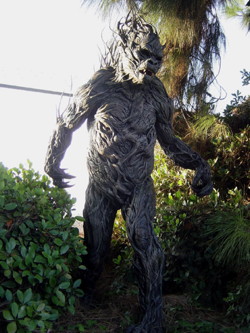 "I always had a fascination with Halloween masks as a little kid," recalls Wang, who moved with his family from Taiwan to the US when he was 8. Wang taught himself how to construct papier-mâché and latex masks. His hard work, creative enthusiasm and self-taught skills eventually led to a Hollywood career, doing something his kid self could only dream about – creating monsters and creature suits for a living.
Tucked away in an industrial section of North Hollywood is Wang's bustling workshop, Biomorph studios. When I visit on a Saturday afternoon there are four smiling assistants feverishly laboring on one of the shop's current orders. "In this business, we're all clowns. If you come into my shop during the day, you'll hear laughter all day long. Yes, we're highly skilled artists and technicians, but we feel like Santa's elves building high-tech toys. Even when it's high-pressure, by the time it's done we'll have something amazing to look at and be proud of."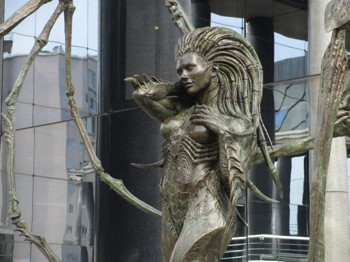 These days most of the contracts Wang receives are from the world of video games. "Currently we're building a lot of realistic, life-sized statues of characters for video game companies, like Blizzard Entertainment, Riot Games and Red 5 Studios." Statues such as Vikings, aliens and space warriors that stand 7 feet high. "It's a prestige thing. These companies are the biggest in the world, so they can afford to build the kind of stuff we make, because making a replica of a virtual character is a very expensive process."
These statues go on display at huge International gaming conventions. "It helps to generate excitement and promote publicity." Die-hard fans and enthusiastic gamers are really passionate about these characters – ones they've only encountered in a virtual world. "So when they see them, in a realistic interpretation, they really freak out and the buzz goes nuts," explains Wang.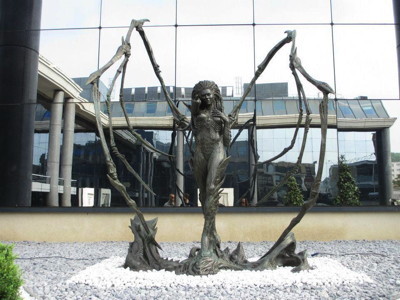 While his daily work grants him a degree of artistic expression, Wang occasionally gains a breathtaking commission that fully exploits his talents as a sculptor. Recently Wang created a full-sized cast bronze statue for the centerpiece of the courtyard at world-wide videogame company Blizzard Entertainment's European headquarters. An exquisite statue of Sarah Kerrigan, aka Queen of Blades and popular nemesis from StarCraft 2, now looms outside of Blizzard's offices in Versailles, France. The 'Kerrigan Bronze,' with its exquisite patina, was completed in May last year. From design specs to photos to clay maquette to silicone mold to wax pieces to casting in bronze, the ambitious sculpture was almost a year in the making. While he won't disclose the cost, Wang admits it was "in the hundreds of thousands." While her legions of fans may not agree if she's alien, human or hybrid, the general consensus is, "Kerrigan is sexy."
This interview first appeared in Ventura Blvd magazine, April 2013 issue.
Read more of this month's articles here.