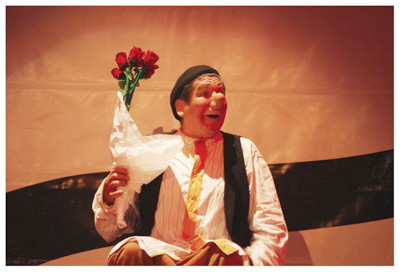 One of the great challenges for adults waiting to see a children's show like Huraclown, currently running in a four-show limited engagement at the 24th STreet Theatre, is trying to strip away the years of their own life and pretend that what they are about to watch is as new to them as it is to the child they are with. But then the clown (Aziz Gual) comes bumbling on to the stage in his oversized shoes, sporting a smile so wide his eyes are hidden behind tightly knit lids and fully fleshed cheeks.
"Me llamo…" ["My name is…"] he starts to say, before pulling a red foam ball out of his mouth.
"Me llamo…" he tries again, before pulling out another one.
By the third time it doesn't seem hard at all to smile or laugh along with this amusing clown.
Partly funded by the City of Los Angeles Department of Cultural Affairs, actor Jack Black¸ and others the 24th STreet Theatre celebrates its 15th Anniversary season by continuing their effort to redefine the landscape of family theatre in Los Angeles. Huraclown—a show that has been seen in France, Turkey, and Argentina—now makes its US premiere with the LAB24 theatre company and largely succeeds in reviving a form of performance art normally relegated to the big top circus.
Huraclown, which Gual wrote and performs mostly solo, is a series of loosely connected episodes and something of a vaudevillian showcase of numerous traditional clown and mime motifs. For most of its single act, the clown stands in front of us, amidst the black and white spiral floor piece and scattered props, honking his nose, dancing around, making silent partners of his hands or legs, and audible ones of members of the audience. And while improvisation seems something of a natural talent, Gual is well trained at his craft.
A graduate of the Ringling Bros and Barnum & Bailey Clown College, Gual has performed as a clown with that circus travelling throughout North America. He also studied abroad under the great French mime artist Marcel Marceau and at the École du Cirque Éspace Catastrophe in Brussels, Belgium. In his native Mexico, he has received the Wolf Rubinskis award for Best Young Actor by the Mexican Association of Theatre Critics. He also sings, plays the accordion, and even recreates the sounds of a Theremin machine by bending and strumming a hand-saw.
Huraclown can be difficult to follow at times, however, despite Gual's abilities. Overly loud sound levels are sometimes overwhelming. And because most of what is spoken is done so in Spanish, it is hard for non-Spanish speakers to understand where the story is going. But when Gual is at his best, the clown's message transcends language.
"It's not about the words," says the theater's Executive Director Jay McAdams, "It's about the non-verbal communication of the body. And old fashioned clowning."
The art of old fashioned clowning is something we casually see on television, at the movies, or during the occasional trip to the circus. Largely, it is something we don't get to experience that often at all. Having an old fashioned clown make funny in front of us, one who has spent most of his life perfecting the craft, is a joy and treat. Huraclown may be geared for the children in the audience, but when the laughs come it is hard to tell if the most audible ones emanate from the young or the young at heart.
Photos are courtesy of the 24th STreet Theatre.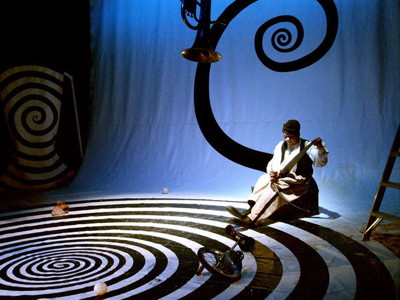 Huraclown (Presented by the LAB24 theatre company)
1117 West 24th Street
Los Angeles, CA 90007-1725
Performances:
Sunday, April 21 at 11 am & 2 pm
Sunday, April 28 at 11 am & 2 pm
Running time:
Approximately 1 hour, without intermission
Tickets:
Adults: $15.00
Under 16: $10.00
Seniors, Students and Teachers: $ 12.00
North University Park residents: $0.24
Box Office:
Purchase tickets here or call (213) 745-6516
Huraclown is rated G and is recommended for ages 4 and up
Review by Jesse Herwitz
[
24th STreet Theatre – More than just plays
]