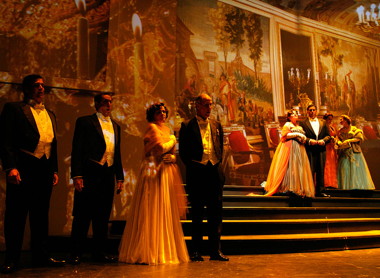 A gorgeous new opera made its world premier last Friday at The Broad Stage, in a co-production with LA Opera, conducted by LA Opera's general director Plácido Domingo.
Performed in English with projected English supertitles, Dulce Rosa, was co-written by composer Lee Holdridge and librettist Richard Sparks, and is based on the short story by Chilean novelist Isabel Allende entitled "Una Venganza" ("An Act of Vengeance"). 
Uruguayan soprano María Eugenia Antúnez shines in the title role of a young woman who plans her revenge against a merciless attacker following the aftermath of a violent political uprising in her (unspecified) South American country.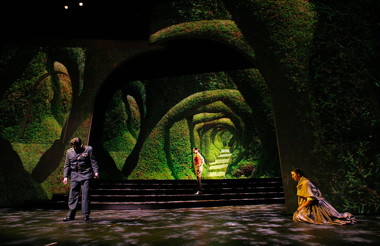 Staged with elegant simplicity by director (and librettist) Richard Sparks, the stationery white set (media art director and set designer is Yael Pardess) provides a vast backdrop for an ever-changing and stunning slideshow of projected backdrops, designed by Jenny Okun. Costumes by Durinda Wood are also superb.
Plot:

Dulce Rosa is a tale of romance and ruin, of revenge and redemption set in a South American country in the early 1950s.  In the aftermath of a violent political uprising, a young woman plans her revenge against the merciless guerilla who murdered her father.
Allende's simple yet melodramatic tale is ideally suited for adaptation to the high-flown and emotionally fraught realm of opera. Holdridge's music is pleasing if pedestrian – there's a distinct lack of thrilling frission, those musical moments that send a ripple up your spine and make your hair stand on end or your heart skip a beat. Act Two is far too repetitive; it's as if we are marking time until the predictable tragic dénouement.
Nevertheless, the voices are all superb, the performances wonderful, and the direction and staging divine.
Photos by Robert Millard.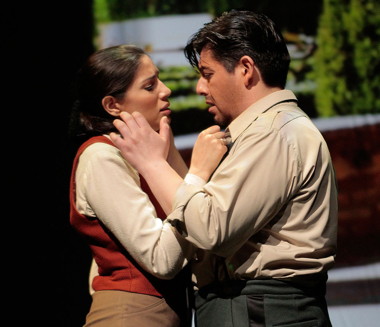 Dulce Rosa
The Eli & Edythe Broad Stage at the Santa Monica College Performing Arts Center, 1310 11th Street,
Santa Monica CA 90401
Free parking on site.
Runs from May 17 through June 9, 2013,
Performances:
Friday May 17, 2013 7:30 PM
Saturday May 25, 2013 7:30 PM
Tuesday May 28, 2013 7:30 PM
Monday June 03, 2013 7:30 PM
Thursday June 06, 2013 7:30 PM
Sunday June 09, 2013 4:00 PM
Tickets range in price from $20.00—$150.00 and are currently available in The Broad Stage's "create-your own" subscription packages.
Box office phone is 310-434-3200 or visit their official site.
RUNNING TIME: Approximately two hours and 30 minutes, including one intermission.