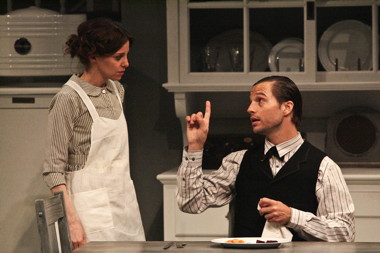 Turn-of-the-century Swedish playwright August Strindberg's naturalistic drama Miss Julie was remarkable in its day for its scandalous subject matter and frank dialogue exchanges. With its scathing commentary on the entrenched class system, passion and power, the play was banned in Britain for nearly fifty years after its publication. Now an updated version is currently playing at the Geffen Playhouse, as re-imagined by one of the most controversial playwrights of our day, Neil LaBute.
LaBute relocates and updates the play's setting from Stockholm in the late 1800s to Long Island just before the 1929 stock market crash, but retains the upper class manor locale and bleak storyline that deals with love, lust, the battle of the sexes.
Over the course of one long evening, Julie (Lily Rabe), the troubled, unhinged and wealthy daughter of the manor, blatantly flirts with the personal valet of her father, the Count. The valet, John (Logan Marshall-Green), is well traveled, reasonably well-read and, despite his lowly station, fancies himself as a bit of a connoisseur. In fact, John has aspirations for a better future for himself beyond shining the riding boots of his master and jumping at every command. Clearly a ladies' man, John welcomes the attention of his mistress and advances the seduction. But fraternizing with someone of a different class is always a risky venture. Who has the most to lose? Meanwhile, just how serious is John's relationship with Kristine the cook (Laura Heisler)?
LaBute's updated setting to the Roaring Twenties assists the classic play, especially with the implied suffragette-inspired motivation of Julie's disastrous behavior. (Julie gives a speech about her unconventional mother and the misandrist lessons she imparted.)
With her brassy and imperious demeanor and her gravelly voice, affecting the drawl of the era, Rabe is good as the titular anti-heroine, clad in a sexy, beaded and backless flapper frock. As the power struggle shifts throughout the one-act play, Julie vacillates from bossy and domineering to pathetic, pleading and wretched while John alternates from solicitous to insolent and contemptuous. Jo Bonney directs her cast of three well and demonstrates that even over 100 years on, Strindberg's Miss Julie still holds dramatic clout.
Photos by Michael Lamont.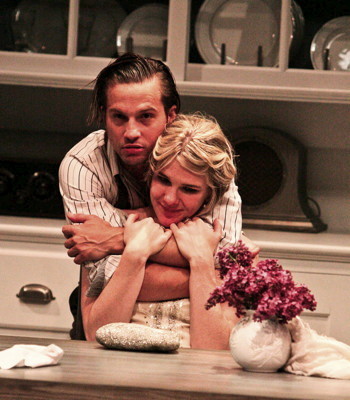 Miss Julie
In the Audrey Skirball Kenis Theater
10886 Le Conte Ave.,
Westwood.
Performance Schedule:
No performances Monday
Tuesday – Friday 8:00pm
Saturday 3:00pm; 8:00pm
Sunday 2:00pm; 7:00pm
Runs through June 2, 2013.
Ticket Info:
Ticket prices currently range from $57 to $72.00
Tickets are available in-person at the Geffen Playhouse box office, via phone at 310-208-5454 or online here.