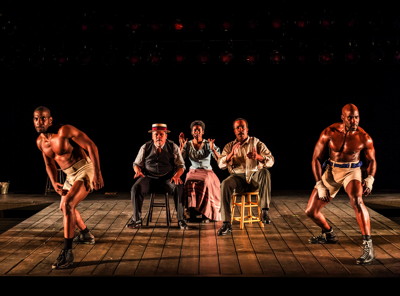 A ferocious cast giving their all in a powerful play—Marco Ramirez' The Royale is a tremendously satisfying evening of theater, now playing at the Kirk Douglas Theatre. Set in the world of boxing during the early 1900s, we meet a tough young fighter Jay "The Sport" Jackson (David St. Louis). He's battled his way to the top of his game, having earned the title of black Heavyweight champion. But he feels he deserves the honor of undisputed heavyweight champion of the world, and to win that crown, he needs to face off against the reigning (though retired) white heavyweight champion—an unheard of event in this racially divided era.
The Royale is loosely inspired by the story of Jack Johnson, an early example of the celebrity athlete in the modern era who was the first African American sports icon to reign as the world heavyweight champion in the early part of the 20th Century. The long touted boxing showdown became a symbolic battle between the races, inflaming racial tension and riots all across the United States.
The inflammatory subject matter is well served by Ramirez' commanding writing style, which is remarkable for its oblique nature. The dialogue and speeches are at times hauntingly poetic, dancing around the point without hammering it home. The unusual staging (as stipulated in the playwright's stage directions) is also noteworthy. During a match, the cast sits on the sidelines of the (implied) boxing ring and, with stomping and handclapping, provides a percussive drive to the trash talk and fisticuffs in the ring. Mighty blows are simulated with a foot stomp and a corresponding recoil.  We don't actually see two fighters make contact (except for a scene of sparring training).
Additionally, there's a perfect moment of creative staging when our hero finally does face off against his white foe.
The Royale is definitely worth seeing.
Photos by Craig Schwartz.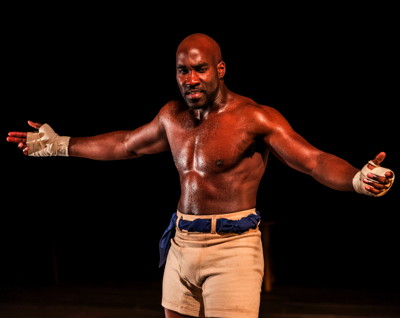 The Royale
Kirk Douglas Theatre
9820 Washington Blvd.,
Culver City
Performances:
Tues.-Fri., 8 p.m.;
Sat., 6 & 9:30 p.m.;
Sun., 3 & 6:30 p.m.
Runs through June 2, 2013.
Running time – approximately 100 minutes, no intermission.
Tickets and more info here.
Box Office – (213) 628-2772