Newly opened (last Friday night) at Sacred Fools is the next exciting installment of the 'Watson' franchise.
READ ALL ABOUT IT!
Here follows my interview with playwright and director Jaime Robledo, his AD Monica Greene and his composer, Ryan Johnson, for Watson and the Dark Art of Harry Houdini.
READ my interview & article on the LA STAGE TIMES site.
~ OR ~
You can just read it here!
Happy reading!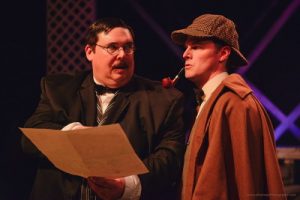 Watson Meets Houdini at Sacred Fools
by Pauline Adamek | June 25, 2013
Didn't get enough of Watson at Sacred Fools Theater in late 2010, or when it returned in the summer of 2011? Don't worry — the saga continues. Writer/director Jaime Robledo's sequel Watson and the Dark Art of Harry Houdini, reportedly darker and more personal, opens tonight.
Like the original, the sequel is at Sacred Fools, which operates out of a black box theater space, seating 74 to 88, near Los Angeles City College. The company's shoestring budgets and the lack of a fly tower for elaborate scenery forces writers and directors to come up with creative staging solutions. These limitations helped craft the innovative style of the Watson series.
An early version of the first play, which is officially known by its complete title — Watson: The Last Great Tale of the Legendary Sherlock Holmes — was developed during the company's late-night Serial Killers season in 2009.  Serial Killers is an intense, hothouse environment in which the writers are given a mere six days to write, cast, rehearse and tech each new chapter in their saga. Audience voting determines which shows return the following week. Lasting 21 weeks, Watson proved a fan favorite and went on to gain a full production in 2010, followed by the second run in 2011.
Jaime Robledo, Ryan Johnson and Monica Greene
It was the first full-length play that Robledo both wrote and directed, and he won an LA Weekly award for his staging. One of the actors, Henry Dittman, won an Ovation for it. Critics were encouraging. Robledo, whose directing career has blossomed since the first Watson, will graduate to LA's big leagues next fall, when he is slated to stage another of his Sacred Fools-originated projects, Stoneface, at Pasadena Playhouse.
The first Watson, which starred Scott Leggett as the benign Dr. John H. Watson and Joe Fria as a manic Sherlock Holmes, has since been published and is now being produced elsewhere. In fact, this new show will be running concurrently with a production of the original Watson, opening next week at the Gretna Theatre in Mt. Gretna, PA.
Many of the key players are returning to their roles for this next installment, including Leggett and Fria, while Graham Skipper replaces French Stewart as Sigmund Freud. One of the newest characters is, of course, the enigmatic illusionist Harry Houdini,  portrayed by Donal Thoms-Cappello.
London's most acclaimed detective Sherlock Holmes and his trusty aide Dr. Watson combine their sleuthing talents to uncover a brutal killer. Their hunt takes them to New York where their path crosses that of the legendary and mysterious escape artist mysterious Harry Houdini. Can the elusive magician help or hinder their quest?
A new direction.
While Monica Greene is once again his assistant director, Robledo has assembled a new creative team for this production. As the writer/director explains, "Our previous costumer moved to Oklahoma and our previous set designer was not available for this production." Robledo did, however, retain the services of Ryan Johnson, who has composed the music for both shows.
Their collaboration came about in mid-2010, when Johnson served as musical director for Sacred Fools' production of Richard Elfman's musical Forbidden Zone: Live In The 6th Dimension — a zany show in which Robledo had a small performing role as a tap-dancing frog.
Scott Leggett and Graham Skipper
Remembers Johnson, "Watson started off as a Serial Killers contender and I thought it had awesome staging and ideas. I took Jaime aside and told him, 'If this goes mainstage — which I knew he wanted — I want to give you some original music'."
For the first play, Robledo's musical brief for Johnson was to create a composition for a string quartet — something he had never written. "I pulled every favor I could," he recalls, assembling Cathy Allen on cello, John Schimm on viola and Dan Graziani on violin (playing both violin parts). "Stylistically, the music was reminiscent of the Victorian era, but Jaime had been using some Philip Glass for writing inspiration." What the pair dreamed up was a combination of those two influences, with some Indiana Jones-style action adventure scoring thrown in for good measure.
For the sequel, Robledo requested a fuller orchestral sound. Says Johnson, "The overall tone of this show is darker than the first, and so the music will reflect that." Elaborating, he adds, "It's more dissonant, still taking many of the same ideas but making them more grandiose."
On encapsulating the characters with distinct music, Johnson explains, "Watson's wife Mary has a particular theme, which was one of my favorite things that I put together for the last show." He recalls it was a sweet and somber theme that took inspiration from Elgar. "I remember thinking, 'Ah, I did something right!'" he says, self-deprecatingly. In developing her theme, the composer built more orchestration around it and shifted it to a minor key for some of the murkier and more reflective moments.
Watson has a main theme that is not tied to the character so much as the overall story. "That's an adventure theme that I intersperse throughout the play," says the composer. Additionally, the new character of Houdini opened up many musical opportunities for Johnson to explore. "Obviously there's a lot of dark mystery and I get to use celeste and pizzicato strings — stuff that sounds mystical. I used a lot of effects that you might hear in a horror movie, such as dissonant strings glissando-ing out into nothing."
A series develops.
CJ Merriman and cast
Discussing the evolution of his Watson franchise, Robledo charts its progress. "This sequel was also originally written for the Serial Killer playoffs. I felt that if I was going to continue this story, it should be a darker tale. I wanted to try something else. I had Hitchcock thrillers in my head — I wanted to explore that kind of territory."
Robledo says the resulting play has a similar trajectory to that of its Serial Killer incarnation. "But I kind of stepped away from it for a while, did other things, lived some interesting life and grew up. I had some success and some failures and heartache, all that kind of stuff. I felt that Watson was the perfect vessel for all of that. It's my creation — I know these people, these actors; I can pour all those experiences into the writing."
Robledo wrote the bare-bones outline — a first draft, of sorts — in January 2011, but  he didn't set to work crafting the play until earlier this year. "Finally, when I got to sit with it, I got to focus on it exclusively. Some of the original cast members came in to read my first draft." Explaining how it all took shape, Robledo says, "I get all this feedback and then maybe a couple of weeks later I'll have another draft. There are some really great, established writers in our company who help out, like Bob DeRosa and Padraic Duffy — Padraic's the guy I bounce stuff off. He'll tell me what's working, what isn't, what would be interesting to see… He is a writer who directs. I am a director who writes," then adds, "But as far as the workshop process goes, I'm very much the one driving the bus."
Even a week and a half before opening night, Robledo reveals the script is still being fine-tuned. "Once you get to this point in the process, sometimes you hear an echo, or a line is repeated, but it doesn't sound right, or a joke doesn't land. You're tweaking, you're polishing the burrs off.  You're making sure you've laid enough pipe for something that happens at the end."
Robledo speaks highly of his assistant director, Greene. She "works above and beyond what most ADs do," he says. "I allow her to give notes directly to actors and she catches things I miss creatively. She's been essentially my right-hand woman during the process."
Scott Leggett, Donal Thoms-Cappello and Joe Fria
Commenting on the new direction the series is taking, Greene says, "It is different and more grim. Holmes and Watson are not the same Holmes and Watson that we left off with in the first one; they have a very different relationship this time around. Watching them interact differently, as well as complete the mission, is another element."
Adds Robledo, "In a way, yes, it does pick up where we left off. But some significant time has passed and some very specific things have happened that have damaged their friendship. I play with the convention of sequels with this one, too."
Familiar faces and new cast members.
Most of the original cast members are back to reprise their roles, namely Leggett and Fria as the two leads, Eric Curtis Johnson as Mycroft Holmes and CJ Merriman as Mary Morstan Watson. In addition to the newest characters of Harry Houdini (Donal Thoms-Cappello) and Carrie Keranen as Violet Hunter (a minor character from Doyle's novels), Graham Skipper plays Sigmund Freud and the "stagehands" (ensemble cast members) will be played by Lisa Anne Nicolai,
 Mandi Moss,
 Brendan Broms,
 Aaron Mendelson 
and Perry Daniel.
Speaking of the ensemble, Robledo says, "They're my 'shock' troops—they represent everything around the characters. They work in — hopefully — military precision. They don't just move stuff on and off stage, they are the world. They are a carousel, a roller coaster, the streets of London, the lights on a pier…" Robledo employs them strategically, almost as pieces on a shuffleboard game.
Because of the venue's limitations, "we can't have mechanized things coming into place, [s0] I figured let's just see seams, and make [sure] the mechanics are physical entities, people," he says, adding, "Watson as a franchise is about including the audience, and letting them fill in the blanks."
Greene elaborates, "With the stagehands, you definitely root for them and you want to see what they are gonna do next."
Carrie Keranen
Johnson chimes in, saying it was this very aspect that impelled him to join up with Robledo. "It's inventive and it is something to do with a small theater that you can have all these special effects but instead of trying to fool anyone, we show it to them and make it artful."
Speaking of his cast, Robledo emphasizes the collaborative approach to staging these works. "From Scott Leggett, Joe Fria on down — they are all remarkable. They live and breathe these characters. I don't 'puppet-master' them — I wind them up and put them in place and see where they go. And if they go too far one way, I pull them in, or push them the other way. I'm not an acting teacher, so I don't approach acting that way. I say 'I am not your acting coach — you get there how you're gonna get there. I'll tell you what I want and what you are doing well and oftentimes if you are doing great, then I won't say anything.' But my cast is so intuitive and they have latitude with the text — I'm not super religious about my words. These are their characters as much as they are mine. They come up with things that I could never conceive. My job, a lot of the time, is just to say 'yes.' If this play is a vessel on the sea, they're the ones pulling the ropes. They are incredibly brilliant, incredibly talented."
As for a further installment to complete the Watson franchise, Robledo is keeping his cards close to his chest. "I have an idea to do a third and final installment, but I can't really discuss that until you see this play," he smiles enigmatically.
Listen to a preview of Ryan Johnson's original score here.
Watson and the Dark Art of Harry Houdini, Sacred Fools Theater, 660 N. Heliotrope Dr., LA 90004. Opens tonight. Fri-Sat 8 pm, Sun 2 pm. Through July 27. Tickets: $25. www.sacredfools.org. 310-281-8337.

**All Watson and the Dark Art of Harry Houdini production photos by Jessica Sherman.