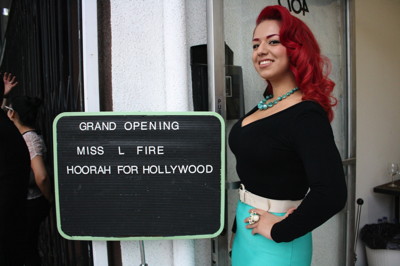 Last Wednesday evening, with an opening night reception that included 100 attendees and live music from local rockabilly band The Rhythm Shakers, Los Feliz welcomed its newest boutique to the neighborhood.
Miss L-Fire of London, located at 4675 Hollywood Blvd., specializes in women's shoes and handbags styled from the 1920s through 1960s and can be considered something of a blast from the past. But to say that the style is simply 'retro' or 'vintage' is too limiting.
"We take our cues from that period, but then we add our own take on it," says English-born creator and managing director Lynsey Hand.
Along with the 35 shoe styles and 10 handbag styles that Hand designs and releases each season, the 100 square-foot boutique carries an assortment of other designers including clothing by Trashy Diva, Bernie Dexter, and Freddie's of Pinewood, accessories by Nadia Barthelme, hosiery by What Katie Did Hosiery, fragrances by Berkeley Square and cosmetics by Besame. Also featured in the store are all new releases from local recording company Wild Records;  The Rhythm Shakers is on their label. In addition, the boutique hopes to feature monthly live music shows.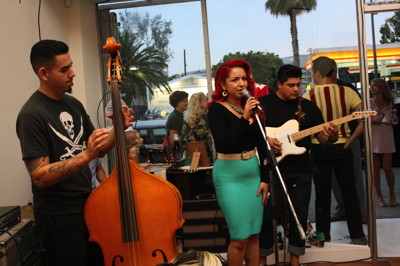 "The community spirit here in Los Feliz is really amazing, and we hope that we will be able to add something to that," smiles Hand.
The premier boutique is something that has been on her mind for a while and has taken many years to tweak and perfect. After graduating from Leicester University, Hand got a job working for the prestigious Quaker run shoe company Clarks where she stayed for four years before moving to the edgier family owned shoe line Office. Then in 2005, after Office was sold to larger corporation, she decided it was time to start her own brand.
"I took [the sale of Office] as the push I needed to try something on my own, which I'd always wanted to do, so I started Miss L-Fire," the fashionista confides.
Quickly after launching the company website, Hand began to notice that despite the pricey overseas shipping costs a large percentage of her orders were coming from the West Coast of the United States. As business grew and it came time to open a physical shop, Hand decided it made sense both financially and practically to do so in Los Angeles.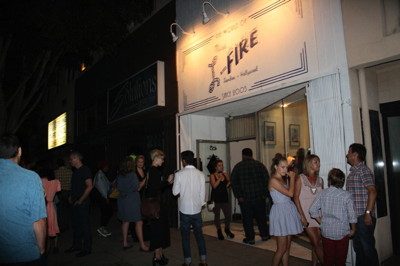 "I personally love LA, and with a brand like ours, Hollywood is our spiritual home."
And if anything else, the Wednesday night reception was a testament as to how happy the community was to have her.
"I'm sure all the friends of Lynsey are here tonight, " says Wild Records owner Reb Kennedy. "And we all wish her lots of success."
Surrounded by many of those friends and colleagues, the always friendly Lynsey made her way around the crowd, with drink in hand,  ribbon in her hair, and a smile equal parts excitement and relief.
"We have a great team in the store, "she says happily. "Watch this space."
And so we will.
Photo credits: Daniel Funaki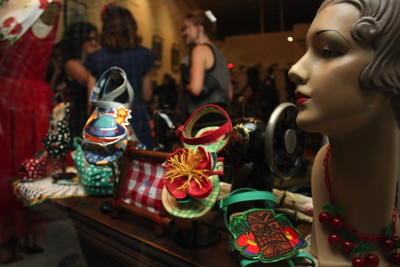 4675 Hollywood Blvd.
Los Angeles, CA 90027
(323) 644 – 1940
Review by Jesse Herwitz