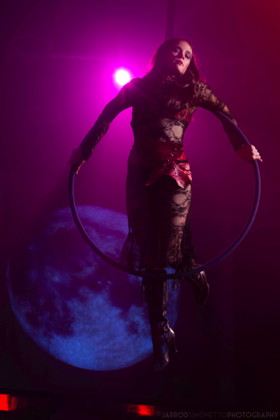 Gloomy, moody, spooky—in the best possible way, Wake Not The Dead is a sexy and dazzling new rock 'n' roll Goth Opera currently playing at King King nightclub in Hollywood.
***Final performance TONIGHT – Thurs, July 25th***
Loosely based on a Gothic vampire novel written by Johann Ludwig Tieck in 1800, the rock-infused opera features some brooding performances from a talented cast, whose voices and demeanor are well suited to the ancient and tragic tale of love lost and regained—at a hideous cost!  Produced by Mario Melendez and directed by Justin Zsebe, the dialogue is high-flown and deliciously antiquated (lots of 'dosts' 'thous' and 'hither') and has pleasing echoes of Bram Stoker and Coppola's Dracula, Nosferatu, as well as Shakespeare's Macbeth.
The show is sprinkled throughout with numerous familiar (and some obscure) pop and rock songs and Goth anthems, mostly dating from the 70s and 80s. The lively song list includes a robust version of Siouxsie And The Banshees haunting hit track Spellbound, Black Sabbath's The Wizard, tunes by Bauhaus, Danzig and The Cramps, as well as—inexplicably—the two 70s hits from (The) Sweet. I was surprised to hear The Damned's Jetboy Jetgirl, which is actually a remake of the international punk pop hit Ça plane pour moi from Plastic Bertrand from 1977.
The rocking show also features some tortured and shredding riffs from Scott Landes and Eric Griffin (both on guitar), backed by Gordon Bash on bass and keys, Natasha Cox on piano and keyboards, and Steve Kefalas pounding away on drums. The band is hot!
Last night's extravaganza came to life with this blend of a live band, live vocals, pole dancing (sexy – not trashy) and some superb tissue aerial work from the trio of gravity-defying Vampires.
Above all, it's a fun and entertaining show!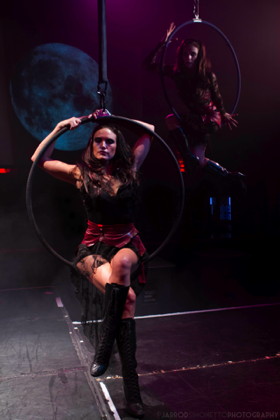 Song List:
Fox On The Run – Sweet
Death On Two Legs – Queen
Night Of The Vampire – Roky Erickson & The Aliens
Spellbound – Siouxsie And The Banshees
Shenna's In A Goth Gang – The Cramps
Trust In Me – Aka The Python Song – Siouxsie And The Banshees
Spirit – Bauhaus
Mother – Danzig
The Wizard – Black Sabbath
Jetboy Jetgirl – The Damned
Mr. Crowely – Ozzy Osbourne
Ballroom Blitz – Sweet
Babies On Fire – Brian Eno
We Are The Dead – David Bowie
Cast List:
LuLu Brud‐ Camilla
Joseph Dixon‐ Henry
Maya Kramer‐ Antoinette Krystaal Rain‐ Elizabeth
Sam Ortiz‐ Rochester
Jane Rose‐ Andora
Jhey Castles‐ Samantha
Sacha Senisch‐ Agatha
Dylan Vox‐ Dazzler
Jarel Mascarinas‐ Werewolf/Elvis Austin Horton‐ Wizard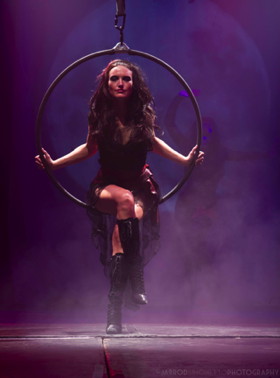 WAKE NOT THE DEAD A Rock and Roll Vampire Opera
King King
6555 Hollywood Blvd
90028
21 & over
$20.00 – $225.00
NB – *All ticket prices will rise by $10.00 on the night, if any are available for door purchase*
Performances:
July 22, 24 & 25, 2013
Door 8PM | Show 9PM
 ***Final performance TONIGHT – Thurs, July 25th***