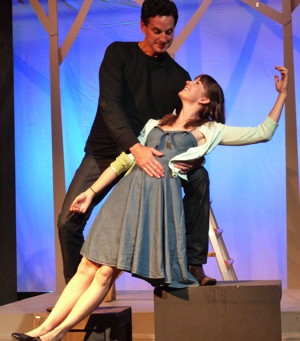 Gentle readers! This week's theater review for the LA Weekly is of The Fantasticks, now playing at Sierra Madre Playhouse in Sierra Madre.
Click here to go to the LA Weekly's theater page and scroll down to read it.
~ OR ~
You can just read them here!!
Happy reading!
The Fantasticks
The original off-Broadway production of The Fantasticks ran for 42 years, making it the world's longest-running musical. Indeed, the songs are quaint and pretty and its simple, allegorical story is complemented by its bare-bones staging. A wall, a stepladder and a moon are virtually all you need to present the story of a boy, the girl next door and their feuding fathers. The storyline draws from the classic tale of Pyramus and Thisbe, the star-crossed lovers whose fable was twice adapted by Shakespeare.
Curiously, the obstacles to the young romance between Matt (Daniel Bellusci) and Luisa (Kelsey Hainlen) are overcome within the first act. What follows is a transition from "scenic to cynic" as the youngsters experience the world before returning home battered and bruised. The cast sings well enough while Hainlen's pure voice soars. The humor is gentle and corny "Son—you need pruning!" and the "rape ballet" tries to sanitize the notion of rape as mere abduction. A dated piece.
The Fantasticks
Sierra Madre Playhouse
87 W. Sierra Madre Blvd.,
Sierra Madre
Fri.-Sat., 8 p.m.; Sun., 2:30 p.m.; runs through July 13.
Box Office: (626) 355-4318 or here.