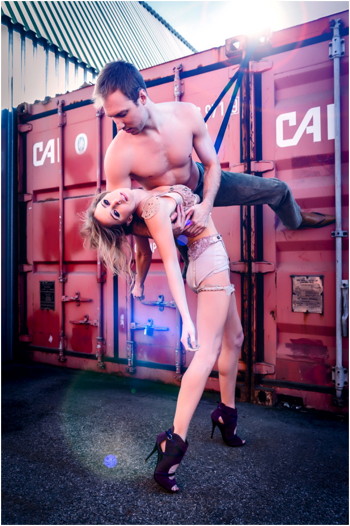 Brett Womack and Rachel Bowman (pictured) are currently performing their spectacular aerial show—a gravity-defying silks act—at the swanky retro Edison nightclub, in Downtown LA.
Using 'tissue' trapeze apparatus, the handsome pair takes to the skies, fusing breathtaking aerial performances with contemporary dance, suspended acrobatics, multi-media and fashion, all backed by a killer soundtrack.
Performing sometimes solo, at other times apart but in tandem with each other, the acrobatic interlude starts up a few times throughout the evening. First performance is at 9.15pm.
Gradually they begin their whirling dance. In a moment of heartbreaking perfection, one foot meets the base of the other's, as she stands while he hangs. Somehow this simple union brings a sob to your throat. At times, she's daringly suspended simply by the crook of her elbow inside his. Another time it's merely interlocked knees that separate them from floating in mid-air and crashing to earth. At one point, Womack goes into a dizzying spiral rotation before executing an elegant acrobatic maneuver. It's thrilling stuff!
The pair will be touring London with Cirque Berzerk for most of this month, but they return to The Edison Downtown for the last two Fridays, Friday July 19 & Friday July 26, 2013.
Don't miss this show!
Go for drinks or make a table reservation (recommended) at The Edison Downtown.
108 W 2nd St #101
Downtown Los Angeles, CA 90012
(213) 613-0000
Friday July 19 &
Friday July 26.
More information about the artists here.