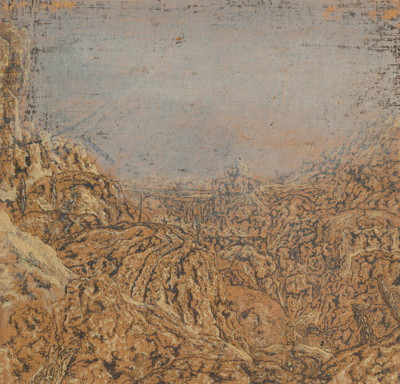 "Yes, it's true—minutes into his performance, he departs!" —Werner Herzog.
A five-channel video installation by celebrated German filmmaker Werner Herzog, Hearsay of the Soul, is now on view at the Getty Center. This profoundly moving installation is on display through January 19, 2014. The Getty's new acquisition combines the early-seventeenth-century landscape etchings by the little-known Seventeenth-century Dutch artist Hercules Segers (c. 1590–1638) with a haunting musical score as well as a performance by Dutch cellist and composer Ernst Reijseger, accompanied by Harmen Fraanje on organ.
The Getty acquired the works from the Whitney Museum of American Art in New York, where it debuted last year.
I was fortunate to meet Herzog and briefly chat with him about this amazing new work:
Question: What is it about a musician, such as Reijseger, whose playing seems to provide a direct and celestial link between God and us?

Herzog, "Well, I don't know… Let me put it another way. Yes, it's true—minutes into his performance, he departs! He goes somewhere else."
Indeed, the ethereal exquisiteness of Reijseger cello performance is utterly disarming (and dissolving). One cannot help but have an intense emotional response to this astounding work of art, video and music.
 About the artist:
Seventeenth-century Dutch artist Hercules Segers (c. 1590–1638), a contemporary of Rembrandt, is all but unknown today. For Herzog, Segers signifies nothing less than the beginning of modernity.
When approached by the Whitney to participate in the 2012 Biennial, Herzog, whose films are regularly cited as an inspiration to many younger visual artists, proposed an installation of Segers' work.
The projected images, produced around 1630 and paired with the music of Dutch musician Ernst Reijseger (b. 1954), demonstrate the imaginative power of Segers' landscapes. The vastness of the imagery, bordering on abstraction, is met with the artist's representation of interiority—a combination heralding an approach to image-making that would not become widespread for hundreds of years.
Herzog has said of Segers, "His landscapes are not landscapes at all; they are states of mind; full of angst, desolation, solitude, a state of dreamlike vision." These images create, for Herzog, "an illumination inside of us, and we instantly know that this is not a factual truth, but an ecstatic one."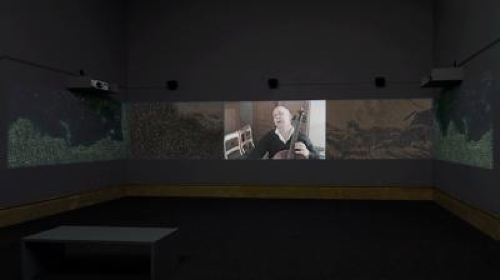 Installation of Hearsay of the Soul at the J. Paul Getty Museum.
Music by Ernst Reijseger from the albums Requiem for a Dying Planet (Winter & Winter, 2006) and Cave of Forgotten Dreams (Winter & Winter, 2011); film excerpt from Werner Herzog's Ode to the Dawn of Man (2011), featuring Ernst Reijseger (cello) and Harmen Fraanje (organ); sound producer: Stefan Winter.
The Getty Center
1200 Getty Center Drive
Los Angeles, CA
The installation is on display through Sunday, January 19, 2014.
Info on visiting the Getty here.