Cuban heels stomping, hands flourishing, skirts swishing—the dazzling Flamenco dancers guided by master choreographer, performing artist and teacher Roberto Amaral are hard at work rehearsing for their upcoming show.
In Tentación, a trio of men circles a lone woman in a complicated and sensual dance. Elisa Rosales Gamero, our central femme, is 'of a certain age' and dances like a dream, while 'jousting' with Alfredo Aja,  Harut Badalyan, and Ricardo Ramírez. It's thrilling to watch.
Emphatic pauses are followed by smooth pirouetting and more stomping. Hands and wrists twirl gracefully. Sometimes the dancers appearing to be frowning, at other times their faces are shining with joy.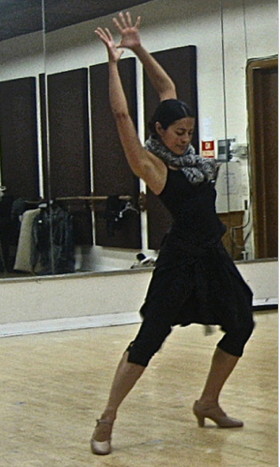 Amaral's Incendio Flamenco is playing for one day only (with two performances) this Sunday in Thousand Oaks.
Critically acclaimed and widely recognized for his trademark high standard of excellence in Flamenco and classical/contemporary Spanish dance, Roberto Amaral once again brings an electrifying presentation of dazzling Spanish-themed dances and songs to the wonderfully intimate and state-of-the-art Scherr Forum Theatre at the Thousand Oaks Civic Arts Plaza.
This third annual showcase presentation promises to be a dynamic and colorful program spotlighting fiery Flamenco, elegant Spanish contemporary dance and cutting-edge modern Flamenco fusion.
Incendio Flamenco showcases thirty-five of the most talented dancers of Amaral's renowned dance studio. Some of the featured performers include Alfredo Aja, Ana Maria Suarez, Elisa Rosales Gamero, Susana Paraíso, Melissa Sagerian, Debra "La Fiera", Ricardo Ramírez and Harut Badalyan.  
Many of the performers are students at Amaral's school, but many are long-time professionals—ballet and belly dancers and showgirls—who have made the transition to Flamenco.
One tall student dancer stands out because of her short blonde hair; a marked contrast to the luscious brunette manes crowning many of the other women. Statuesque, slim and elegant, Leanne Branam is now 65, though you wouldn't guess it. A former prima donna with Disney on Parade shows, in Branam's hey-day she played everything from a Sugar Plum Fairy to starring as Mary Poppins. Now, when she tells people she dances Flamenco, they are astounded. "Amaral's dance studio is no-nonsense," she remarks. "You're there to learn." More than just a hobby, Flamenco "is a passion" for Branam. "It's so different to ballet, which is silent," she marvels, "Plus you're often contra-tempo; dancing against the beat."
As a special added attraction this year, the program of Incendio Flamenco will unveil the debut of Amaral's new Flamenco fusion music/dance ensemble—Fuego Exótico—featuring world-class artists, including flamenco guitarists Ben Woods and Kai Narezo, keyboardist Joey Navarro, bassist Keith Jones and drummer Joey Heredia, percussionist Gerardo Morales and dancers/singers Arleen Hurtado and Rocio Ponce.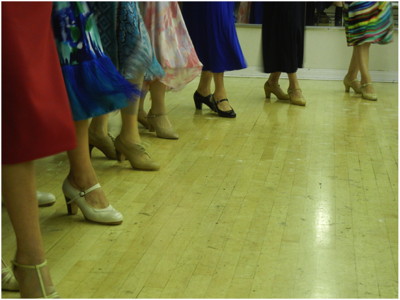 This special presentation will be highlighted by world premiere production numbers created and sung by Amaral.
Amaral, former lead vocalist, songwriter and flamenco dancer with the legendary band Carmen, debuts his latest music project with this dynamic blend of flamenco, pop, rock, Latin and R&B.
You are the Rhythm, the opening track from Amaral's new CD entitled The Freedom, was written, arranged and produced by Amaral and features the musicians performing during the live show.
Photos by Cindy Marie Jenkins.
Incendio Flamenco
Sunday, August 11th, 2013
2:00 pm (most seats already sold!)
6:30 pm
Scherr Forum Theatre
2100 East Thousand Oaks Blvd.
Thousand Oaks, CA 91362
Thousand Oaks Civic Arts Plaza / Bank of America Performing Arts Center in Thousand Oaks, California.
TICKETS:
Tickets are $45.00 and $35.00, and are available at the theater box office,
through The Amaral Studio, and at Ticketmaster outlets.
For general information call 805-813-7212.