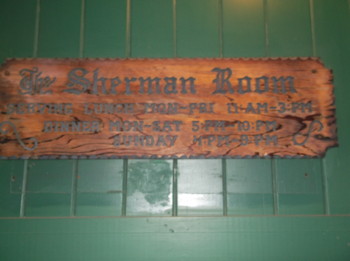 While this may just look like some hole in the wall dingy dive or just a bar near a corner, the truth is The Sherman Room is one of the last remaining historical landmark restaurant establishments still standing in the San Fernando Valley that is authentic "old school." They are struggling to keep their doors open and unless San Fernandovallian's decide to dine out and show support for these old nostalgic steak houses, they are all going to disappear like all the others and soon all that will be left are the contemporary chain eateries.
My friends and I have forged many a memorable memory over the past ten years at The Sherman Room. Even though we could go to other upscale restaurants—which we do from time to time—for the most part we choose The Sherman Room because of the nostalgia it evokes. In my book this graceful old venue, located in the Lake Balboa district of Van Nuys, in the San Fernando Valley, is second only to Los Toros Mexican Restaurant, in Chatsworth.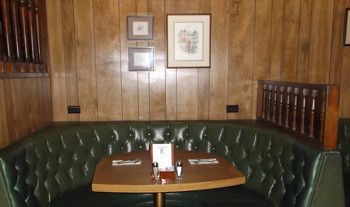 The dining room:
What can one expect from their dining experience at The Sherman Room?
Firstly, you will easily find decent parking nearby, compared with Ventura Blvd., where one is forced to pay for valet or walk a hearty mile. Once parked, one will step right back into 1960's. Well-dressed for evening, our hostess and friendly host are happy to seat you. As you enter the quite small but quaint old-time dining room, you will then be greeted by vintage avocado green; anyone from the 1960 era will know what I mean by 'avocado green.' I often wonder why they did not call the joint "The Green Goddess" Then again, they are located on Sherman Way… In any case, it's a travel back in time to the day when avocado green tuck 'n' roll booths and Formica table tops with the look of wood grain were all the rage. Almost like being back in your grandparents or parents' kitchen.
The stone rock fireplace with the traditional fake flames (that satisfies the LAFD regulations) adds to the ambience. The lighting is strangely dim and that gives the impression a light bulb is about to burn out forever or you're about to be interrogated by the CIA. The taste in the decor could best be described as frugal, modest and unimpressive.
The menu is old style and reminiscent of when your Father or Grandfather would take everyone out for an affordable steak dinner on Friday night payday. The salad is not going to make the cooking channel's nomination for anything; it's just iceberg and the dressings are minimal. Believe it or not 'Green Goddess' salad dressing is not an option.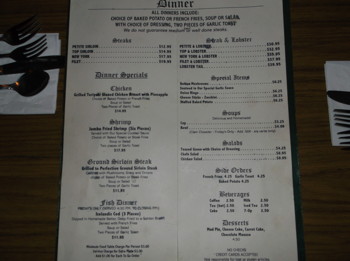 They have steaks, baked potato, garlic bread, mushroom appetizers, sauté, Fish and Chips, Lobster, several sandwiches and soups. The soups are different each night; Friday is Clam Chowder, Thursday is Navy Bean. There's Chicken Noodle, Vegetable and—you guessed—it Split Pea green soup is an option on one of those nights.
Monday has special pasta preparations but you can have spaghetti any night and there is Taco night and other specials on various nights. They have a separate sandwich menu with standard favorites for those who like Tuna Melts , Pastrami, Corn Beef, and Brisket.
I believe all are served with large 'steak' fries or small fries, with soup or salad.
They have delicious desserts and their Mudd Pie is to die for. You have to be specific about your order and be very descriptive with a serious tone as you stare the waitress in the eye with a look that conveys to your server to be sure to convey to the cooks, "Don't mess up my order specifications!" because everyone who works at The Sherman Room is a character and a half. Remember, it's The Sherman Room not Lawrys and your savings account will appreciate the difference. It's not that we don't know the difference between this and better, fine dining restaurants, but the old original places are in our blood and remind us all where we came from.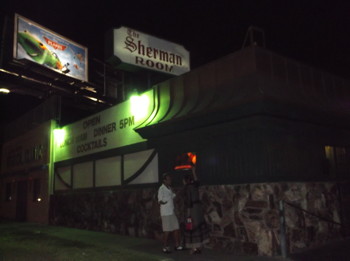 This month I took this photo of the exterior The Sherman Room with two friends I pulled outside to pose as patrons. Since some there are actors or writers or in the "biz" in one way or another, they are willing to do their part to contribute to help support The Sherman Room.
The vibe:
Something about being in these old haunts, where the heart of the San Fernando Valley truly lies, keeps our hearts harking back to a better time, when we put the personality into a place and our presence breathed life into them. Being at The Sherman Room is like truly being in an episode of Cheers colliding with an episode of Green Acres in a comedy of errors. Truly, "Everyone knows your name" at The Sherman Room. You have waitresses who sit down and join you in conversation who are great listeners and sell Avon on the sidelines. They cry with you when your pet dies and we cry with them when their pets perish. Then, the host will get after them and they have to jump up and remember to serve the other patrons waiting. It's just hilarious. Our hearts cherish all these memories and the entire staff feels like family.
One waitress, Sally, worked there for decades and—of all nights—happened to have been there the day she decided it was time to up and retire herself.
The bar:
Families may dine there, but 21 is the age requirement for the bar dining area.
The little bar on the other side of the dining room is living proof the avocado is just as green on the other side and one can even afford a martini or two when carousing at The Sherman Room. Nothing changes when you cross from the dining room to the other side, but it's a deceptively dreary looking bar at first glance. Far from dreary is what goes on in that tiny little bar on any given evening. The drama queens can deliver memorable scenes but patrons are the peace-loving crowd. It is a delightful and magical room filled with many of the old timers who have been coming in and sitting there for decades on those bar stools, most likely right from the neighborhood. They have sing along nights to observe all the holiday's and sweet elderly folks singing along with the younger generations of kids who were teens in the 1970's who are now in their late 50's or about 60 years old. That is about the age range in The Sherman Room. You get quiet dining in the dining room, but the little bar gets robust with laughter and love that is hardly quiet. If you're looking for silence, try the cemetery or library because The Sherman Room bar is full of friends you haven't met yet but in time, it feels as if you have known everyone forever who love being alive.
I don't even drink alcohol these days, but I still have a joyous time there with my friends for many a birthday celebration or any night we just declare it's time for a celebration or just good conversation. The staff see me and put on a fresh pot of coffee. They close up early by 10:00pm or so and the beloved bus boy has the vacuum on under your feet and its lights out.
Speaking of light's out—the ladies room lighting leaves little to be desired if you have the courage to look into the mirror. There is nothing fair about that mirror and we often refuse to even turn on the light when we go in there as it has a tendency to destroy any shred of self esteem left that perhaps we still look the way we did back in the day…
Besides looking at the brighter side, we don't go there to see one self but to be oneself and an optimistic reflection of well-being from the other's optimal energies and well being one to another.
My friend, whose grandfather is the late American songwriter Buddy DeSylva who co-wrote the lyrics to the song Birth Of The Blues, has been working for months on a screenplay to hopefully become a great mini-series based on his early life and beginnings. I can tell you truly it was The Sherman Room that gave birth to that brilliant project that will be blessed to fruition because of the magical energies swirling around in that place.
The Sherman Room is an optimistic reflection. I suppose non San Fernandovallian's might think The Sherman Room could use a make over too, but that is the difference between those of us born and raised here for the most part and someone just arriving. I have always felt those born and raised in San Fernando Valley are like a subculture of their own, with this common denominator of shared memories of the San Fernando Valley we remember and the one we don't recognize.
We know if those walls at The Sherman Room could talk all the great stories they could tell but "What happens at The Sherman Room, stays at The Sherman Room." We are not prone to stirring up the sacred ground of our beloved "San Fernando relics" and don't want to see another neighborhood historical structure be a haunting memory of what used to be.
I guess what I'm trying to say is this may not be the fanciest or classiest fine dining experience, but it is the most genuine and authentic time period restaurants that symbolizes what the San Fernando Valley used to be all about. Simple life that was satisfying and fulfilling by the good taste in the company you were with and the good memories we are just natural at dishing out.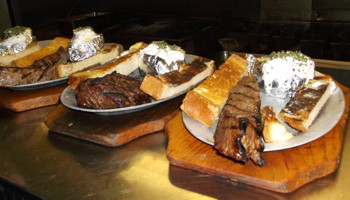 All photos by YaVaun Swanson.
The Sherman Room
16916 Sherman Way
Van Nuys, CA 91406
Review written by YaVaun Swanson.