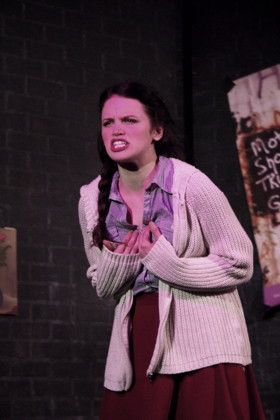 Hello dear readers! This week my (rave) theater review for the LA Weekly is of bare, the brave and bold musical now playing at The Hayworth Theater in LA.
We gave it a 'GO!'
bare
A closeted gay couple in a Catholic boarding school struggle with their secret love affair in the musical Bare. Peter (a superb Payson Lewis) wants to come out to his mom and the world, but Jason (an equally outstanding Jonah Platt) refuses, dreading the fallout.
Jon Hartmere and the late Damon Intrabartolo's contemporary rock opera is uplifting despite its sorrowful elements, and the courage of the writers — and the talented cast — to plumb the complexities of adolescence, including bullying, cutting, teen pregnancy and burgeoning sexuality, grants us a fantastic musical journey.
To read the remainder of this review, go here to the LA Weekly's theater page (and scroll down a bit).
bare
2511 Wilshire Blvd., Los Angeles
Fri.-Sat., 8:30 p.m.; Sat., 2:30 p.m.; Sun., 7:30 p.m.
Through Sept. 22, 2013. (310) 213-6955