The works of prolific author and playwright Joyce Carol Oates are being presented at Theatricum Botanicum
 for a select handful of performances.
The evening features four short monologues by the multiple award-winning, three-time Pulitzer Prize-nominated author, followed by the one-act play Tone Clusters.
Remaining dates are: Thursdays, 19 & 26; Friday, Oct. 4 and Saturday Oct. 12.
Director Mike Peebler has fashioned an evening that showcases the author's varied works, granting his cast of six to demonstrate their prowess as well. The first monologue, the poem "I Stand Before You Naked," is unusually presented as a chorus of three voices featuring Jonathan Blandino, Cynthia Kania and Sarah Lyddan. In this way, Peebler presents each character to us first; the actors remain in character from this first poem through to each of their solo monologues. It's a crafty choice that pays off.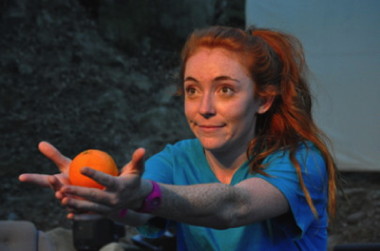 Sarah Lyddan is a standout in "The Orange" – a monologue about a young woman savoring and anticipating eating an orange. Gradually a disturbing and dysfunctional self-portrait of a bulimic sufferer emerges.
Tone Clusters depicts the TV appearance of an ordinary husband and wife who find themselves transfixed by nightmarish media attention when their son is arrested as the alleged killer of a neighborhood girl. Real-life married couple Alan Blumenfeld and Katherine James portray Frank and Emily Gulick, an average suburban couple who cannot begin to fathom the horror of what their son might have done and why. The pair is clearly in denial. As the play progresses, clever video footage of innocent baby photos gives way to a spooky video of police officers at the scene when they uncover the victim. It's chilling stuff!
Chris Sibley has done a fantastic job with the video installation, including monitors that isolate the couple from each other and also from us, the 'TV viewers' or studio audience.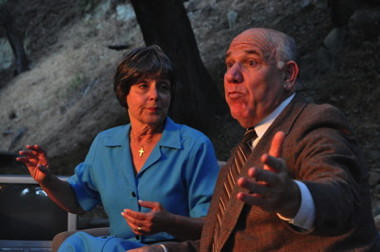 Tone Clusters
Thursdays, 19 & 26;
Friday, Oct. 4 and
Saturday Oct. 12, 2013
All performances at 8 p.m.
Will Geer's Theatricum Botanicum

1419 N. Topanga Canyon Blvd.
Topanga CA 90290
(midway between Pacific Coast Highway and the Ventura [101] freeway)
NB—The theater is located outdoors and the canyon cools down quickly in the evening, so do bring a sweater or jacket even if the day is warm.
TICKETS:
General admission: $25
Seniors, students, military veterans, members of Actors Equity: $15
Box office:
(310) 455-3723
The outdoor amphitheaters at Will Geer's Theatricum Botanicum are terraced into the hillside of the rustic canyon. Audience members are advised to dress casually (warmly for evenings) and bring cushions for bench seating. Snacks are available at the Hamlet Hut, and picnickers are welcome before and after the performance.