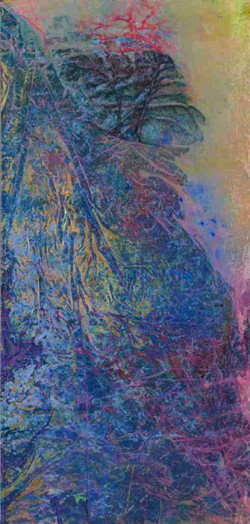 Announcing the finale in the trilogy of shows inspired by Earth's primal energies, "The Life of Air," by Artist Pam Douglas goes on view at TAG Gallery at Bergamot Station in Santa Monica.
Award-winning painter Pam Douglas, launches the highly anticipated finale in her trilogy of art shows inspired by earth's primal energies—Water, Fire and Air.
"The Life of Air," opens September 3, 2013 (on exhibit through September 28, 2013) at Bergamot Station's TAG Gallery in Santa Monica and features Douglas' original paintings on silk.
"These new works experiment with transparencies where the motion of air flows through abstracted imagery. "I chose Air to explore the subtle power within an invisible energy," says Douglas. "I also wanted to evoke the transparencies of our time where so much of life is permeable and fleeting."
Earlier this year, Douglas exhibited at the Palm Springs Fine Art Fair, and at the California African American Museum where she had a six-month long installation. Douglas, whose work is widely collected, has also been exhibited at The Los Angeles County Museum of Art (LACMA) sales and rental gallery, and in juried shows including TarFest, i-5 Gallery at the Brewery Art Complex and The California Open. Her 2012 solo show— "The Life of Fire"—was critically acclaimed by James Bae, who wrote," These paintings are stunning tropes of singular instances…never repetitive but endlessly unpredictable…transcending the scope of traditional arguments on how nature can be represented. Like fire, they have their own way of being alive."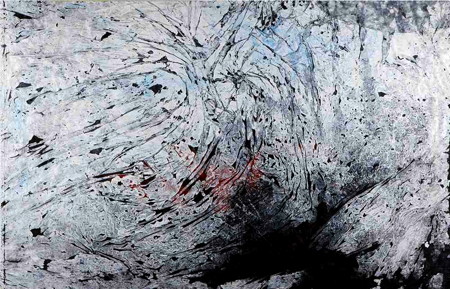 The remarkable aspect of these works is that they become quite three-dimensional in texture, as well as transparent and fragile, because of the way ink dries on silk.
The Significance of Silk:
Douglas says, "Working on 'The Life of Air' was a transcendent experience for me because it was an experiment with delicate materials that were new to me. The silk panels receive the inks and water-based mediums in different ways from canvas or other cloths, allowing colors to seep through multiple layers. This technique creates dimensionality that is at once fragile and deep."
About the Works:
In "The Life of Air," Douglas will exhibit 11 paintings. This series is strikingly different from the hard-edged, brightly colored pieces from last year's "The Life of Fire," and the dense layers of paint in "The Life of Water." But, she notes, "all the pieces created for the trilogy of primal energies are abstractions of nature. They also have thematic similarities with my sepia work on raw linen from a few years back, as they create subtlety as well as movement."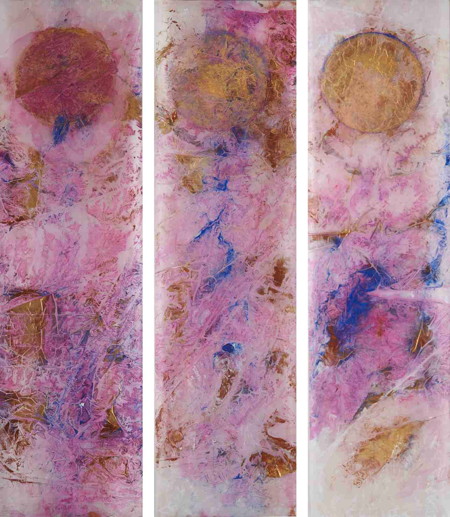 Key pieces on exhibit include:
–       A Fragile Space (tryptich 36 x 33″, inks and mixed media on silk)
Fragments of delicate color –rose tones, gold and blue – hesitate around gold moons on transparent silk panels, suggesting a spirit at once fragile and emerging.
–       Blowin in the Wind (30 x 45", inks & mixed media on silk)
The motion of seeds forming a spiral is reflected in sparkling light on a silk surface detailed with texture.
–       Highways (34 x 48"; inks & mixed media on silk)
Viewed from high above, over a richly textured landscape, birds catch the light as they traverse black swaths in an abstract geometry.
–       The Tree Stood Through It All (30 x 45" inks & mixed media on silk) The strong monochromatic pattern of air currents push an abstracted tree that holds its ground within powerful forces.
–       Where Mountain Becomes Spirit (27 x 13″, inks and mixed media on silk)
A hint of gold waterfall cascades down a richly textured mountain where impossible trees balance on a disappearing edge.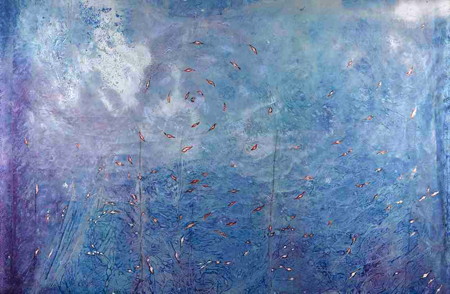 Two Special Events for "The Life of Air"
Saturday, September 7th from 5 PM to 8 PM: Pam Douglas will be present at the Artist's Opening Reception at TAG Gallery at Bergamot Station in Santa Monica, which will also include solo shows by two other local artists.

Saturday, September 21st at 3 PM: Artists' Talk, a discussion among the 3 artists. Event is free and open to the public.
These events are free and open to the public.
Douglas is also a writer and professor at the USC School of Cinematic Arts.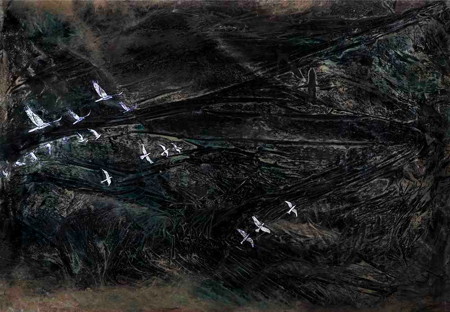 "Life of Air"
September 3 – 28, 2013
Bergamot Station,
2525 Michigan Avenue D3
Santa Monica.
Normal gallery hours are:
Tuesday through Saturday 11AM – 5PM; and Sunday afternoons.
For more information, call TAG Gallery at 310-829-9556.
For more information about Pam Douglas and her work, visit her official website here.