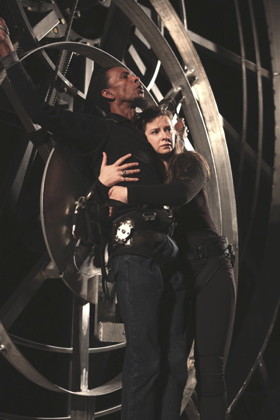 Punished by the upstart Olympian gods, the Titan Prometheus' access to prophesy and knowledge of future events does little to lessen his agony of eternal suffering and torture. A sparkling new translation of one of the oldest and most influential classical Greek tragedies is now being performed at the Getty Villa in their open-air amphitheater.
This new translation is by poet Joel Agee of the Greek classic text ascribed to the tragic poet Aeschylus, dating back to 450 B.C. Prometheus Bound is a world premier co-production by CalArts Center for New Performance
 and the J. Paul Getty Museum at the Getty Villa.
Director Travis Preston has conceived of—and beautifully realized—an interpretation of the ancient play that is both sophisticated and accessible. More a dramatic poem than a typical drama, Preston has his cast fill the entire space, with some action happening on the stairs of the amphitheater. As a unified group, the chorus of twelve women gives an excellent performance. They breathe, sigh, sing, speak, beseech, implore, lament, make spooky sounds and run as one; sometimes their choreographed movement (per Mira Kingsley) ebbs and flows like the murmuration of a flock of birds.
A massive steel wheel (23-foot-tall, five-tons of steel) designed by Efren Delgadillo Jr., dominates the stage as its sole set piece, providing an unusual vertical staging aspect that fits in beautifully with the tiered concrete amphitheater.
Playing Prometheus is Ron Cephas Jones who declaims his anguish brilliantly. Doomed to perpetual torment for his defiance of Zeus in giving mortals the gift of fire, his punishment sees him chained to a remote mountain by the cruel gods.
Unsurprisingly, the enduring theme of Prometheus Bound—his heroic defiance of tyranny—resounds in the 21st Century.
Jones performs virtually the entire (one-hour) show secured to a smaller, rotating wheel that moves around the giant wheel like a hand on a clock traces its outer diameter. His story is echoed by the chorus, all twelve women speaking in unison. At times they climb on and ascend the sturdy wheel, securing themselves to it with clamps and safety rigs.
With original music composed by Ellen Reid and Vinny Golla, and performed live by Golla and Chris Lopes (on upright bass), the accompanying score is a series of random shimmery notes on gongs and brass Tibetan bowls. Golla occasionally runs a musical bow across a gong to create weird sounds. At other times he picks up a woodwind instrument and plays some jazzy themes while Lopes plucks his bass. It's all a bit scatter-shot, musically, but it works.
Above all, Prometheus Bound is a highly theatrical and entertaining work.
This show is part of Radar L.A., the international theater festival that started in L.A. in 2011 and is returning in late September.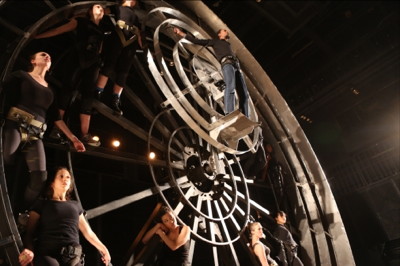 Prometheus Bound
The Barbara and Lawrence Fleischman Theater
Getty Villa
17985 Pacific Coast Highway,
Malibu CA 90265
Performances: Thursdays through Saturdays,
September 5 – 28, 2013
Tickets are $42 ($38 for students and seniors).
Tickets may be purchased online here or by telephone at (310) 440-7300.
To read my article about the production, go here.