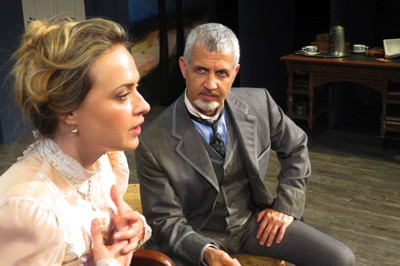 Dear readers! This week's theater review for the LA Weekly is of Creditors, now playing at the Odyssey Theatre in West L.A.
We gave it 'Pick of the Week.'
Creditors
A despondent young artist, Adolf (Burt Grinstead), laments his problematic marriage, pouring his heart out to a new acquaintance, Gustav (Jack Stehlin), at a Swedish seaside resort. But as Gustav pries secrets from the weak-willed husband, smoothly poisoning him against his divorcée wife, Tekla (Heather Anne Prete), we observe tantalizing clues, revealing that this friendly fellow somehow knows too much. Incisively directed by David Trainer, playwright David Grieg's new version of August Strindberg's turn-of-the-century psychological thriller is a talky play that draws you in with its hypnotic spell.
To read the remainder of this review, go here to the LA Weekly's theater page.
Creditors
New American Theatre and the Odyssey Theatre
2055 S. Sepulveda Blvd.,
West L.A.;
Fri.-Sat., 8 p.m.; Sun., 2 p.m.
(added perfs Oct. 30, Nov. 7, 13 & 21, Dec. 14, 8 p.m.; pay-what-you-can)
(310) 477-2055, ext. 2