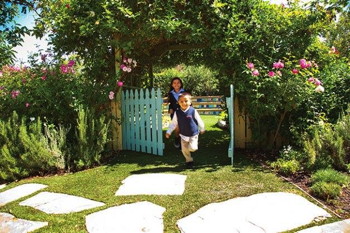 Behind a wall on busy Victory Boulevard, in the midst of a strip mall-filled corridor, lies something you wouldn't expect: a secret garden. It spans across the four-acre campus of a primary school with not just delightful climbing vines and colorful annuals but well-tended edible gardens. Having recently celebrated their 60th anniversary, Laurence School (kindergarten through sixth grade) not only teaches math and English—they're also teaching kids how to be environmental stewards.
Explains Laurie Wolke, head of school, "We started the edible garden about 10 years ago as part of our sustainability academic program. From garden to table, from farm to fork … children in an urban environment really need to understand how important it is to protect our world, as well as how everything that we eat is our sustenance."
Adds principal Gary Stern, "The children participate in Planting Day in the fall. They all plant something specific, and then they nurture and harvest it throughout the year. They get excited even about a piece of broccoli."
The private school also hosts a farmers market in the spring, selling homemade items such as picture frames, paper and lavender potpourri.
"Some of the proceeds from the sale go back into the next garden planting, to sustain the cycle of life idea, and some money goes to an environmental charity," says the principal. Their sister school in Liberia was the lucky recipient this past year.
~~~
At Highland Hall Waldorf School in Northridge (kindergarten through 12th grade), visitors will discover another green oasis. Leslie Beers, a parent and co-owner of A State of Mind home and garden shop, heads up The Garden Gnome Society at the school, along with Nitza Bernard, a biodynamic gardener and landscape designer. Supported by donors and volunteers, the society funds various landscaping and farm projects.
To read the rest of this report, please go here.