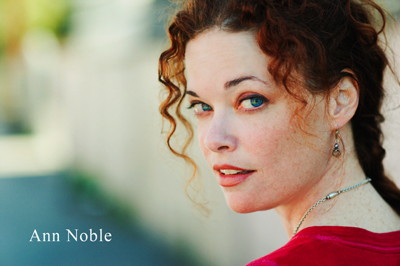 LA Stage Times feature article – Ann Noble's on the Laramie-Liar Shuttle — But Writing Comes First
You think you know LA theater? Who's currently acting in two very different productions — yet considers herself primarily a writer, more than an actor?
Chicago-raised, LA-based Ann Noble.
She can be spotted in The Laramie Project: Ten Years Later at the L.A. Gay & Lesbian Center's Davidson/Valenti Theatre, and also in the changing casts of The Liar at Antaeus Company's space in North Hollywood.
Laramie is a docudrama that examines the aftermath of the 1998 murder of Matthew Shepard in Laramie, Wyoming, a decade later; Noble adopts several roles throughout the play. At the opposite end of the spectrum is her lively role in The Liar, a farce by 17th-century French playwright Pierre Corneille, translated and adapted in 21st-century language by David Ives.  Here Noble engages in witty wordplay while playing a high society Parisienne whose best friend is wooed by a fabulist.
Blessed with naturally red corkscrew curls and piercing blue eyes, Noble is also a playwright. Prior to joining Antaeus three years ago, Noble not only performed in numerous plays at the Road Theatre Company but also was its playwright-in-residence.
To read the rest of this interview & article – please go here.
The Liar, Antaeus Theatre Company, 5112 Lankershim Blvd., North Hollywood 91601.
Thu-Fri 8 pm, Sat 2 pm and 8 pm, Sun 2 pm. Through December 1.
Tickets $30-34.   818-506-1983
The Laramie Project: Ten Years Later, Davidson/Valentini Theatre, the Village at Ed Gould Plaza, 1125 N. McCadden Place, Hollywood 90038.
Fri-Sat 8 pm, Sun 7 pm. Through November 24.
323-860-7300.