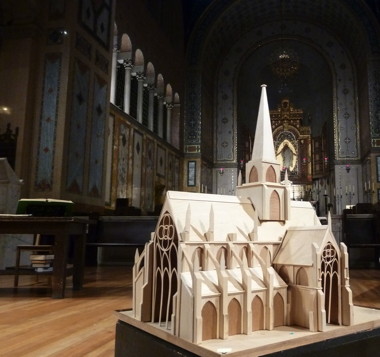 Given the chance to embody John Merrick—aka 'The Elephant Man'—on stage is probably something most actors would jump at with the same alacrity they would for the opportunity to tackle Hamlet or Richard III. It's certainly a supremely challenging role, both physically and emotionally.
For a highly limited run—only this weekend and next—you can see Mark McClain Wilson brilliantly portraying John Merrick in a new production of Bernard Pomerance's The Elephant Man. Using only his voice and contorted physicality, Wilson transforms himself into the grotesquely deformed turn-of-the-century tragic figure, who went from a freak sideshow attraction to becoming feted by London's high society. Wilson's performance is emotionally gripping, exquisitely conveying the gentleness, intelligence and dignity of this strange, often gawked at and repelled fellow.
First performed on Broadway in 1979, Pomerance's Tony Awarding-winning play is being staged in an unusual yet fitting arena—St. John's Episcopal Cathedral in Los Angeles, near Downtown LA.
While the majestic setting serves the play's themes well, it also creates insurmountable acoustic challenges for the cast of eight, who do their best to project at just the right pitch to avoid the dulling reverberation. Unfortunately, some dialogue is occasionally lost, but the play's delicacy and emotionality endures. Some overacting also detracts, yet this is a fine play and a production, directed by Patricia McKee, which manages to surprise and captivate.
Worth seeing!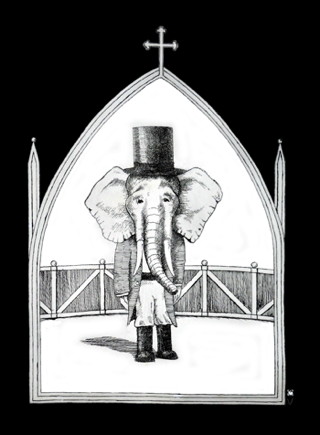 The Elephant Man by Bernard Pomerance
Produced by arrangement with Samuel French
Directed by Patricia McKee
Mark McClain Wilson at John Merrick
Maria Olsen as Mrs. Kendal
St. John's Episcopal Cathedral
514 W. Adams Boulevard in Los Angeles
Performances:
Thursdays through Saturdays at 7:30 p.m.
Runs:
January 30–February 8, 2014
Tickets $25 and $15 students/seniors
For reservations, call (213) 747-6285 ext. 106