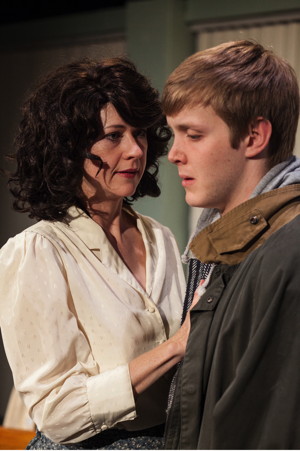 Firemen is one of those intense discomfiting plays that can have you squirming in your seat, wishing you'd opted to see something less painfully and graphically real. It's also, despite the spot-on dialogue, drawn out: the individual scenes could be briefer and the story could be told more concisely.
But Firemen, written by Tommy Smith, features a fine ensemble of actors, all beautifully directed by Chris Fields who once again displays his incredible gift for handling material that commingles deep dysfunction and dark humor, much as he did in last year's A Family Thing. Whatever imperfections emerge in the play's structure are more than compensated for by the integrity in its execution.
The story involves a sexual relationship between a troubled teenager Ben (Ian Bamberg) and a forty-ish school secretary Susan (Rebecca Gray) whose interest in the boy is piqued after he circulates prurient notes about her around the school. Gary (Michael McColl), an unsympathetic high school counselor, takes him to task and seems more interested in humiliating Ben than in helping him. The browbeating takes place in Susan's presence; seeing him reduced to even more abject misery than usual, she makes her move and slithers into his confidence. Seduction is not far behind.
Part of what makes Ben so susceptible is his unhappy home life. Annie, his single mom (Amanda Saunders) is herself too immature and involved in her own problems to be much of a parent. But whereas Annie is clueless, Susan is pernicious. Outwardly chill, inwardly twisted, she thinks nothing of bringing Ben into her home which she shares with her own pre-teen son, Kyle (Zach Callison). When she leaves them alone together, Ben wreaks on Kyle the abusive display of sexual power that's been visited on him.
In fact, pretty much all the relationships in the play boil down to abusive power relationships in one way or another. A lot of what's creepy in the scenes between Susan and Ben is how she, an adult, uses sex to manipulate and control him. At the same time there's a tenderness within the intimacy on both sides, an ambivalence that anyone who's navigated the treacherous waters of obsessive passion will recognize. (And that makes what's happening on stage seem creepier still.)
It takes a deft pen to realize this web of psychopathology on the page and an equally accomplished gift to bring it to life before an audience. Gray's performance is flawless, under Fields' sure direction—a standout among the quartet of skilled portraits drawn by the remaining ensemble.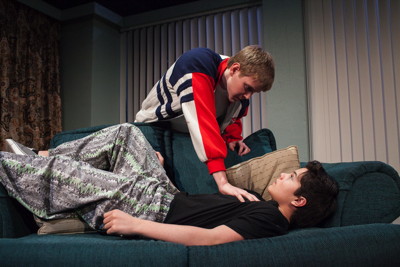 Firemen by Tommy Smith
Atwater Village Theatre.
3265 Casitas Avenue
Atwater
Performances:
Fridays & Saturdays at 8:00 pm
Sundays at 7:00 pm and at 3:00 pm March 16.
Runs through Sunday, March 16, 2014
 Review by Deborah Klugman.