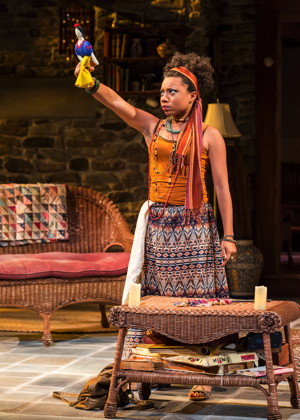 Learning that Christopher Durang's comedy Vanya and Sonia and Masha and Spike—now playing at the Mark Taper Forum until March 16—won the 2013 Tony Award and the New York Drama Critics' Circle Award for Best Play fills me with some degree of sadness.
Sure, it's raucously funny and therefore diverting, and it has an appropriated pedigree (it cleverly riffs on several of Anton Chekhov's most famous plays, characters and refrains) but was this really the best comedy produced on Broadway, or on smaller New York stages, last year? While amusing, sadly Durang's play is woefully lacking in substance, despite his characteristic absurd style of parody being on full display and in full flight.
My disenchantment may partly be because it is directed by TV star David Hyde Pierce (Frasier etc). It's important to note that Pierce starred as the forlorn Vanya in the Broadway production. Incidentally, Pierce has a longstanding connection with the playwright, having made his Broadway debut in the small role of a waiter in Durang's Beyond Therapy in 1982. Familiarity aside, Pierce's unsubtle and heavy-handed approach emphasizes the play's exaggerated characters by encouraging a broad acting style—lots of mugging—until it feels more like canned situation comedy than theater.
Plot:
Comfortably residing in a bucolic Pennsylvanian location, two middle-aged siblings lament their life of opportunities squandered while they cared for their ailing parents. Meanwhile, their third sibling, accompanied by a hunky, goofy and vacuous boy-toy, arrives at the family home with news that she plans to sell it and turn the others out. Additional characters include an optimistic young neighbor and a sassy and interfering maid who is cursed with a second sight.
While Durang's sometimes exposition-laden play is clever, funny and frothy, there are a few speeches that stand out. Vanya's rant about the devolution of culture "We used to lick stamps…" (expounded well by Mark Blum) is fantastic but goes on way too long. Christine Ebersole gives a great performance as the narcissistic actress (and wealthy provider) Masha, and her tirade is also quite brilliant. Cassandra the Jamaican maid is highly entertaining and flashy and Shalita Grant makes the most of this attention-seeking role, though oddly recalling Rosie Perez with her thick Bronx/Puerto Rican accent…
Bottom line – it's fun, it's funny but Vanya and Sonia and Masha and Spike is as innocuous and fleeting as gossamer in the rain.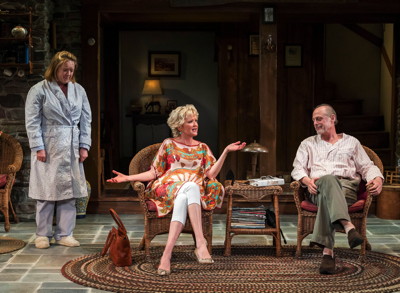 Vanya and Sonia and Masha and Spike
Mark Taper Forum
135 N. Grand Ave., L.A.
Runs through March 16, 2014
8 p.m. Tuesdays-Fridays, 2:30 and 8 p.m. Saturdays, 1 and 6:30 p.m. Sundays
Tickets: $20-$90; (213) 628-2772
Running time: 2 hours, 25 minutes, one intermission.