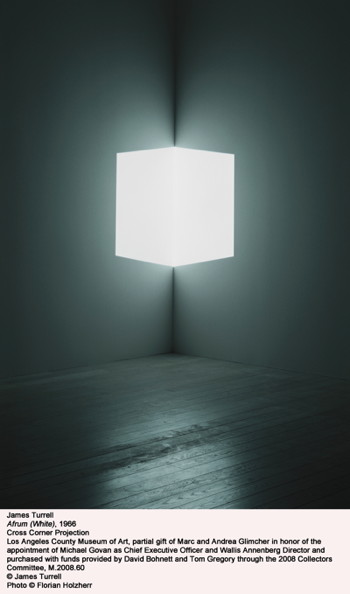 Currently on view at the Los Angeles County Museum of Art (LACMA) are three exhibitions that should not be missed!
James Turrell.
James Turrell: A Retrospective is running until April 6, 2014. The show features approximately fifty works tracing five decades of the artist's impressive career. In addition to early light projections, holograms, and an entire section devoted to his masterwork-in-progress, the Roden Crater project, the exhibition features numerous immersive light installations that address our perception and how we see.
The dreamy exhibition features everything from ingenious framed holograms to rooms where you can immerse yourself in a wash of deep, soft and vivid colors that sometimes gently and slowly pulsate and change hues. It's a truly special experience.
Be advised, tickets for Perceptual Cell are sold out at this time.  But do not miss Breathing Light.  You may have to wait for half and hour (or more…) to be led into the room, but it is completely worth it.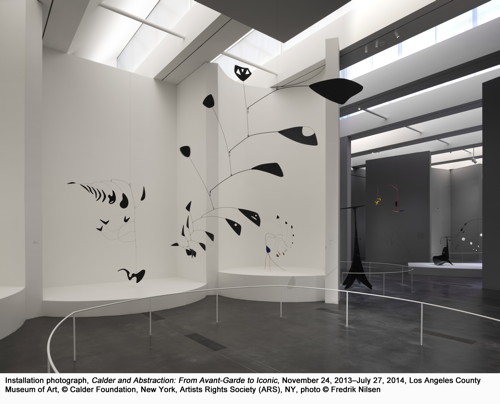 Alexander Calder.
Whimsical mobiles. Free-standing 'stabiles.' A surrealist painting come to life! I've always loved those kinetic sculptures—the pretty mobiles of elegantly suspended shapes on wires that defined Calder's artistic style. But what I didn't realize was that Calder was a contemporary of the Surrealists that dominated the pre-WWII Parisian art scene. While in Paris, Calder met and became friends with a number of avant-garde artists, including Joan Miró, Jean Arp and Marcel Duchamp. Apparently a visit to Piet Mondrian's studio in 1930 had a major impact on him, and "shocked" him into embracing abstract art.
LACMA presents Calder and Abstraction: From Avant-Garde to Iconic, running until July 27, 2014. This is the first monographic presentation of Alexander Calder's work in a Los Angeles museum. Taking as its compass the large-scale sculpture Three Quintains (Hello Girls), a site-specific fountain commissioned by LACMA's Art Museum Council in 1964 for the opening of LACMA's Hancock Park campus, Calder and Abstraction brings together a range of nearly fifty abstract sculptures, including mobiles, stabiles, and maquettes for larger outdoor works, that span more than four decades of the artist's career. The exhibition at LACMA is organized by senior curator of modern art Stephanie Barron and designed by Gehry Partners, LLP.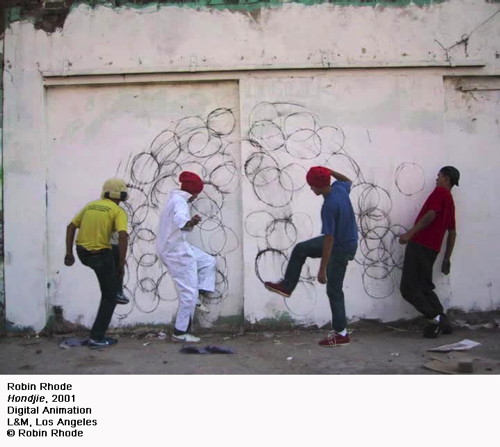 Fútbol.
To celebrate the impending World Cup event in South America (taking place this July in Brazil) LACMA presents Fútbol: The Beautiful Game. Running until July 20, 2014, the group exhibition examines the sport of fútbol, or soccer, as it is known in the United States. Featuring approximately 50 works by nearly thirty artists on the subject of fútbol—often referred to as "the beautiful game"—the exhibition looks at issues of nationalism, identity, globalism, and mass spectacle as well as the shared human experience between spectators from a multitude of cultures. LACMA's exhibition considers the sport through video, photography, painting, sculpture, and large-scale installation.
Los Angeles County Museum of Art (LACMA)
5905 Wilshire Boulevard (at Fairfax Avenue)
Los Angeles, CA, 90036
323 857-6000
Hours:
Monday, Tuesday, Thursday: 11 am–5 pm;
Friday: 11 am–8 pm;
Saturday, Sunday: 10am-7 pm;
closed Wednesday
General Admission:
Adults: $15; students 18+ with ID and senior citizens 62+: $10
Free General Admission:
Members; children 17 and under; after 3 pm weekdays
for L.A. County residents; second Tuesday of every month; Target Free Holiday Mondays