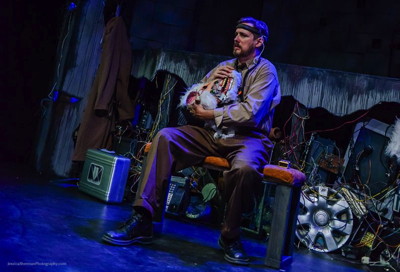 That fun-filled celebration of theater, 35th Annual LA Weekly Theatre Awards, (affectionately known as the 'LaWees'), is being held this year on Monday April 7, 2014 at Exchange LA, 1735 Vine St, LA. The usually raucous awards event will be hosted by members of Zombie Joe's Underground Theatre troupe.  This year's theme is gothic-macabre: "The Death of Art . . . And Its Resurrection." You are encouraged come attired as your favorite artist–deceased.
The 'LaWees' will honor the best work on our city's small stages from 2013 (meaning work performed in theaters of 99 seats or fewer).
The show starts at 7:30pm (doors open at 6:30pm)
Tickets range from $15.00–30.00 (cheap!) and can be purchased here.
 If you have been nominated for an award, you and one guest are eligible for discounted tickets. To take advantage of this special offer, please email and they will send you a personalized discount link and code. The email subject line should be THEATER AWARDS RSVP. In the body include your full name, the production you're associated with, and the award you have been nominated for.
35th Annual LA Weekly Theatre Awards
Monday April 7, 2014
Exchange LA
618 S. Spring St.
Los Angeles, CA 90014
7:30pm
Nominees:
PRODUCTION OF THE YEAR:
Do Androids Dream of Electric Sheep? Sacred Fools Theater Company
Our Class, Son of Semele Ensemble at Atwater Village Theatre
Peter Pan: The Boy Who Hated Mothers, The Blank Theatre at 2nd Stage Theatre
Walking the Tightrope, 24th Street Theatre
We Are Proud to Present a Presentation About the Herero of Namibia, Formerly Known as Southwest Africa, From the German Sudwestafrika, Between the Years 1884-1915, The Matrix Theatre Company
REVIVAL PRODUCTION OF THE YEAR:
The Last Days of Judas Iscariot, The Hudson Backstage
The Normal Heart, The Fountain Theatre
A View From the Bridge, Pacific Resident Theatre
MUSICAL OF THE YEAR:
Dreamgirls, DOMA Theatre Company at The MET Theatre
A Man of No Importance, Good People Theater Company at the Lillian Theatre
DIRECTION:
Jillian Armenante, We Are Proud to Present. . . The Matrix Theatre Company
Carl Cofield, One Night in Miami, Rogue Machine Theatre
Debbie Devine, Walking the Tightrope, 24th Street Theatre
Edward Edwards, Tender Napalm, Six01 Studio
Simon Levy, The Normal Heart, The Fountain Theatre
Michael Matthews, Peter Pan: The Boy Who Hated Mothers, The Blank Theatre at 2nd Stage Theatre
Matthew McCray, Our Class, Son of Semele Ensemble at Atwater Village Theatre
DIRECTION OF A MUSICAL:
Marco Gomez, Dreamgirls, DOMA Theatre Company at The MET Theatre
Janet Miller, A Man of No Importance, Good People Theater Company at the Lillian Theatre
COMEDY DIRECTION:
Bart DeLorenzo, Annapurna, Evidence Room and Odyssey Theatre Ensemble
Chris Fields, A Family Thing, The Echo Theater Company at Stage 52
Marcos Nájera, ¡Ser!, Los Angeles Theatre Center
ONE ACT DIRECTION:
Edward Edwards, Tender Napalm,Six01 Studio
MUSICAL DIRECTION:
Corey Hirsch, A Man of No Importance, Good People Theater Company at the Lillian Theatre
Walter Miranda, ¡Ser!, Los Angeles Theatre Center
Chris Raymond, Dreamgirls, DOMA Theatre Company at The MET Theatre
David Robbins, A Midsummer Night's Dream, Actors' Gang at the Ivy Substation
ENSEMBLE:
Cops and Friends of Cops, VS. Theatre
Creditors, The New American Theatre and Odyssey Theatre Ensemble
The Last Days of Judas Iscariot, The Hudson Theatre
One Night in Miami, Rogue Machine Theatre
Our Class, Son of Semele Ensemble at Atwater Village Theatre
Peter Pan: The Boy Who Hated Mothers, The Blank Theatre at 2nd Stage Theatre
Walking the Tightrope, 24th Street Theatre
We Are Proud to Present . . ., The Matrix Theatre Company
COMEDY ENSEMBLE:
Absolutely Filthy, Sacred Fools Theater Company
El Grande de Coca-Cola, Ruskin Group Theatre
A Family Thing, The Echo Theater Company at Stage 52
LEADING FEMALE PERFORMANCE:
Diana Angelina, Remembrance, Theatre 40
Kimberly Atkinson, Do Androids Dream of Electric Sheep?, Sacred Fools Theater Company
Melissa Weber Bales, A View From The Bridge, Pacific Resident Theatre
Pamela Dunlap, Heart Song, The Fountain Theatre
Ann Noble, The Crucible, The Antaeus Company
Paige Lindsey White, Walking the Tightrope, 24th Street Theatre
LEADING MALE PERFORMANCE:
Bill Brochtrup, The Normal Heart, The Fountain Theatre
JD Cullum, Sexsting, Katselas Theatre Company at Skylight Theatre Complex
Tim Cummings, The Normal Heart, The Fountain Theatre
Bo Foxworth, The Crucible, The Antaeus Company
Brendan Hunt, Absolutely Filthy, Sacred Fools Theater Company
Gregory Itzin, Sexsting, Katselas Theatre Company at Skylight Theatre Complex
Vince Melocchi, A View From The Bridge, Pacific Resident Theatre
John Sloan, R II, The Theatre @ Boston Court
Jack Stehlin, Creditors, The New American Theatre and Odyssey Theatre Ensemble
SUPPORTING FEMALE PERFORMANCE:
Lisa Cirincione, A View From The Bridge, Pacific Resident Theater
Julanne Chidi Hill, We Are Proud to Present . . .,The Matrix Theatre Company
Christine Joëlle, Remembrance, Theatre 40
Trisha LaFache, Peter Pan: The Boy Who Hated Mothers, The Blank Theatre at 2nd Stage Theatre
Rebecca Mozo, We Are Proud to Present . . ., The Matrix Theatre Company
Candace Nicholas-Lippman, In the Next Room (or The Vibrator Play), The Production Company at the Secret Rose Theatre
Lisa Pelikan, The Normal Heart, The Fountain Theatre
SUPPORTING MALE PERFORMANCE:
Verton R. Banks, The Normal Heart, The Fountain Theatre
Daniel Bess, We Are Proud to Present . . ., The Matrix Theatre Company
Matt Gottlieb, The Normal Heart, The Fountain Theatre
Fred Koehler, The Normal Heart, The Fountain Theatre
Phil Lamarr, We Are Proud to Present…, The Matrix Theatre Company
Johnny O'Callaghan, Remembrance, Theatre 40
James Sutorius, The Crucible, The Anteaus Company
Gareth Williams, Cops and Friends of Cops, VS. Theatre Company
TWO-PERSON PERFORMANCE:
Burt Grinstead and Laurie Okin, Dying City, Rogue Machine Theatre
Graham Hamilton and Jaimi Paige, Tender Napalm, Six01 Studio
Bruce Ladd and Daniel J. Roberts, A Perfect Likeness, Fremont Centre Theatre
Megan Mullally and Nick Offerman, Annapurna, Evidence Room and Odyssey Theatre Ensemble
Michael Yavnieli and Jeff LeBeau, Years to the Day, Skylight Theatre Company at the Beverly Hills Playhouse
SOLO PERFORMANCE:
Brian T. Finney, Heart of Darkness, Actors' Gang at the Ivy Substation
Karen Anzoategui, ¡Ser!, Los Angeles Theatre Center
FEMALE COMEDY PERFORMANCE:
Jaime Andrews, Absolutely Filthy, Sacred Fools Theater Company
Kendra Chell, Track 3, Theatre Movement Bazaar at Bootleg Theater
Caitlyn Conlin, Track 3, Theatre Movement Bazaar at Bootleg Theater
Anna Douglas, Absolutely Filthy, Sacred Fools Theater Company
Rachel Germaine, Absolutely Filthy, Sacred Fools Theater Company
Shannon Nelson, Absolutely Filthy, Sacred Fools Theater Company
Elizabeth Regen, A Family Thing, The Echo Theater Company at Stage 52
Liz Vital, Track 3, Theatre Movement Bazaar at Bootleg Theater
MALE COMEDY PERFORMANCE:
Marc Erickson, The Last Days of Judas Iscariot, The Hudson Backstage
Saverio Guerra, A Family Thing, The Echo Theater Company at Stage 52
Brendan Hunt, Absolutely Filthy, Sacred Fools Theater Company
Aaron Miller, El Grande de Coca-Cola, Ruskin Group Theatre
Johnny Messner, A Family Thing, The Echo Theater Company at Stage 52
Bob Turton, A Midsummer Night's Dream, Actors' Gang at the Ivy Substation
Keedar Whittle, Last Days of Judas Iscariot, The Hudson Backstage
PLAY WRITING:
Doris Baizley, Sexsting, Katselas Theatre Company at Skylight Theatre Complex
Allen Barton, Years to the Day, Skylight Theatre Company at the Beverly Hills Playhouse
Kathryn Graf, The Snake Can, Indie Chi Productions at Odyssey Theatre Ensemble
Brendan Hunt, Absolutely Filthy, Sacred Fools Theater Company
Ron Klier, Cops and Friends of Cops, VS. Theatre Company
Gary Lennon, A Family Thing, The Echo Theater Company at Stage 52
Kemp Powers, One Night in Miami, Rogue Machine Theatre
EXCELLENCE IN CRITICISM:
Myron Meisel
CAREER ACHIEVEMENT:
John Zalewski
QUEEN OF THE ANGELS:
Deborah Behrens
PRODUCTION DESIGN:
Alcestis, Critical Mass Performance Group and The Theatre @ Boston Court
Do Androids Dream of Electric Sheep?, Sacred Fools Theater Company
Heart of Darkness, Actors' Gang at the Ivy Substation
Our Class, Son of Semele at Atwater Village Theatre
R II, The Theatre @ Boston Court
¡Ser!, Los Angeles Theatre Center
ADAPTATION:
Richard Alger, Track 3, Theatre Movement Bazaar at Bootleg Theater
Nancy Keystone, Alcestis, Critical Mass Performance Group and The Theatre @ Boston Court
Jessica Kubzansky, R II, The Theatre @ Boston Court
LIGHTING DESIGN:
Anna Cecelia Martín, Our Class, Son of Semele Ensemble at Atwater Village Theatre
Matt Richter, Do Androids Dream of Electric Sheep?, Sacred Fools Theater Company
Pablo Santiago, Dr. Jekyll and Mr. Hyde, Actors Co-op Theatre
Dan Weingarten, Heart of Darkness, Actors' Gang at the Ivy Substation
COSTUME DESIGN:
Linda Muggeridge, Do Androids Dream of Electric Sheep?, Sacred Fools Theater Company
Michael Mullen, Dreamgirls, DOMA Theatre Company at The MET Theatre
Merrily Murray-Walsh, Creditors, New American Theatre and Odyssey Theatre Ensemble
Naila Aladdin Sanders, One Night in Miami, Rogue Machine Theatre
Jenise Smith Thornhill, The Last Days of Judas Iscariot, The Hudson Backstage
Sarah Figoten Wilson, El Grande de Coca-Cola, Ruskin Group Theatre
SET DESIGN:
Danny Cistone, Cops and Friends of Cops, VS. Theatre Company
John Iacovelli, We Are Proud to Present . . ., The Matrix Theatre Company
DeAnne Millais, Do Androids Dream of Electric Sheep?, Sacred Fools Theater Company
Stephanie Kerley Schwartz, One Night in Miami, Rogue Machine Theatre
Thomas A. Walsh, Annapurna, Evidence Room and Odyssey Theatre Ensemble
Sybil Wickersheimer, Heart of Darkness, Actors' Gang at the Ivy Substation
SOUND DESIGN:
John Ballinger, Annapurna, Evidence Room and Odyssey Theatre Ensemble
Mark Nichols, Heart of Darkness, Actors' Gang at the Ivy Substation
Austin Quan, Dr. Jekyll and Mr. Hyde, Actors Co-op Theatre
Ben Rock, Do Androids Dream of Electric Sheep?, Sacred Fools Theater Company
Randall Tico, Alcestis, Critical Mass Performance Group and The Theatre @ Boston Court
John Zalewski, Walking the Tightrope, 24th Street Theatre
CHOREOGRAPHY:
Nancy Keystone, Alcestis, Critical Mass Performance Group and The Theatre @ Boston Court
Tina Kronis, Track 3, Theatre Movement Bazaar at Bootleg Theatre
Rae Toledo, Dreamgirls, DOMA Theatre Company at The MET Theatre
VIDEO DESIGN:
Matthew G. Hill, Walking the Tightrope, 24th St. Theatre
ORIGINAL MUSIC:
David Robbins, A Midsummer Night's Dream, Actors' Gang at the Ivy Substation
Walter Miranda and Louie Pérez, ¡Ser!, Los Angeles Theatre Center
Randall Tico, Alcestis, Critical Mass Performance Group and The Theatre @ Boston Court
FIGHT CHOREOGRAPHY:
Nenad Pervan, Tender Napalm, Six01 Studio
PROJECTION DESIGN:
Anthony Backman and Ben Rock, Do Androids Dream of Electric Sheep?, Sacred Fools Theater Company
Adam Flemming, Dallas Non-Stop, Playwrights Arena at Atwater Village Theatre
Kaitlyn Pietras, R II, The Theatre @ Boston Court
Kaitlyn Pietras, Slipping, Rattlestick Playwrights Theater at the Lillian Theatre
Jason Thompson, Heart of Darkness, Actors' Gang at the Ivy Substation