Sassy, fearless, outspoken—whether you love her or hate her, Bernhard is an in-your-face comic diva. Racy, confrontational and occasionally offensive yet also self-deprecating and angst-ridden, she has created a body of work that's defined by her iconoclastic style and ironic look at the world that spins around her.
Last Saturday actress/singer/comedienne Sandra Bernhard performed her new show Sandyland at the Center for the Art of Performance at UCLA – Royce Hall. The show was part of her current national tour, with live shows booked in various cities around the country throughout the year. You can get info on her tour at her official website.
In her own one-of-a-kind live show, Sandyland, performer Sandra Bernhard presents an evening that incisively blends theatre, rock-n-roll and stand-up comedy with a touch of burlesque and cabaret.
Polished and poised, Bernhard took to the stage with her band, The Flawless Zircons, consisting of Mitch Kaplan, Chris Jax and Simon Hancock. Following an opening song (If You Could Read My Mind, by Gordon Lightfoot), Bernhard launched into one of her quintessential monologues about her marriage and family life, her upbringing and the way she sees the world. She touched on pop-culture and recent events, making a brief tribute to Martin Luther King Jr, referring to the assassination of JFK and her memories of writing a condolence note to Jackie Kennedy at the age of eight. Above all, we were entertained by her sometimes bitchy and sardonic yet hilarious remarks and observations.
While the show is advertised as running for 90 minutes with no intermission, Bernhard went above and beyond during an extended encore, returning to the stage for a further 20 minutes and bringing out an astonishingly accomplished young violin player, Lili Hayden, to rock with her band.
Understanding Bernhard's style:
Her kind of comedy isn't really sarcastic… So, is it satirical?
Bernhard put me straight in an interview we recently conducted for LA Stage Times. "It's actually neither. My live shows take elements from cabaret, burlesque, rock and roll, musical theater—all with an ironic twist. You're gonna get the whole buffet of performance from me. 'Irony' is a much more apt description of my style." She quietly adds, "Sarcasm is more of a 'cheap shot.' I feel you gotta dig a little deeper with your commentary, with your comedy."
Bernhard currently lives in New York with her daughter Cicely Yasin and her life partner, writer and PR executive Sara Switzer. When asked to identify the important elements that make up a successful one-woman show, Bernhard doesn't hesitate. "Well, years of hard work. Also, a sense of great fun and willingness to go right out to the edge. Really it's all about being who you are and having an original voice."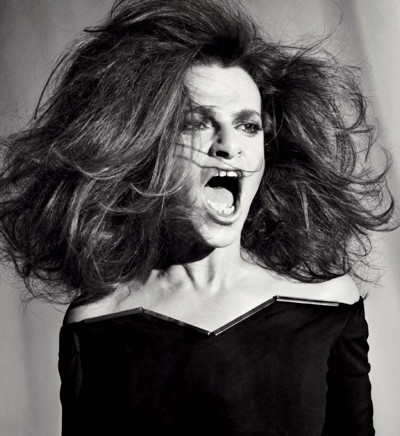 About the tour:
The actress/singer/comedienne kicked-off her 2014 tour in early January, right after bringing 2013 to a riotous close by performing a five night sold-out stint at New York City's famed Joe's Pub over New Year's Eve.
About the performer:
The always entertaining Bernhard has been wowing, and sometimes shocking, audiences since starting her career at LA's famed Comedy Store in the 1970's, going on to become a favorite on the live-show comedy circuit nationally, while also forging a career in film, television and on Broadway.
Bernhard also returns to television this season, as she will guest star in ABC Family's original drama series, "Switched at Birth." In a recurring role, Bernhard will play Teresa Lubarsky, a groovy art professor at a local college where Bay (Vanessa Marano) is taking classes.  The Peabody Award-winning family drama returns for a third season in January, 2014.
She was also featured in a special guest starring appearance on the hit ABC TV comedy The Neighbors in 2013. As most people are aware, from 1991-1996 she played Nancy Bartlett—the first openly gay character on a network sitcom—on Roseanne, and has more recently appeared on the TV Land comedy Hot in Cleveland, on Logo's DTLA, CBS's The New Adventures of Old Christine, FOX TV's American Dad, NBC's Crossing Jordan, The L Word, etc. and has appeared more than 30 times on Late Night with David Letterman.
In addition to her numerous television and film appearances, audiences have raved about her work on the Broadway stage, including the critically acclaimed I'm Still Here… Dammit!, which opened Off-Broadway in 1997, then moved to Broadway a year later, and was filmed for an HBO special. In 2006, Bernhard's Everything Bad and Beautiful also opened to rave reviews. Her most recent show, I Love Being Me, Don't You? recently played to sold-out crowds for an extended run in Los Angeles. The album version of the show was released on Rooftop Records last fall, and she has since been touring almost non-stop.
For more info on Sandra's Sandyland tour, please visit her official website.