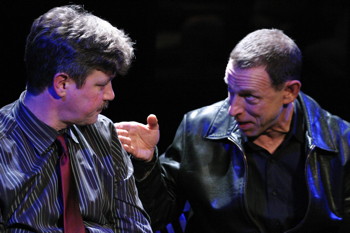 In Keith Huff's casually profane police procedural A Steady Rain, two hard-boiled men converse with each other and with us, breaking the fourth wall to relate a familiar workplace saga. The men, Joey (Thomas Vincent Kelly) and Denny (Sal Viscuso), are grizzled Chicago cops and partners–salt of the earth working stiffs–worn down and somewhat cynical from years of pounding the beat as a desirable promotion to detective status continues to elude them both. We gain an insight into their murky friendship, their private lives and how they intersect.
While the tale unfolds with a somewhat predictable tragic trajectory, the journey we are taken on is not always predictable and frequently gripping. What stands out beyond the recognizable tale is the crisp, authentic and occasionally poetic dialogue and two extremely fine performances from these two leading men.
Tech credits are good — basic costumes (Rachel Clinkscales) and minimal set (essentially two chairs and some windows, unfussily designed by Adam Flemming) permit the characters to ambulate freely. Apart from a couple of abrupt lighting changes, the rainy-night mood is sustained by John Zalewski's excellent sound design. Steppenwolf Theatre co-founder Jeff Perry directs, deftly orchestrating the play's nuances with sound effects and visuals that punctuate the conversation.
A side note: Upon learning that Huff's play had been staged on Broadway starring Hollywood heavyweights Daniel Craig and Hugh Jackson (also a Broadway veteran), I did grumble to myself that we so seldom get stars of that caliber to grace our stages here in LA… But by the conclusion of Huff's taut one-acter, my gloom had lifted. The presence of these two fine actors served the text extremely well, minus the distraction of star status, allowing the play itself to shine.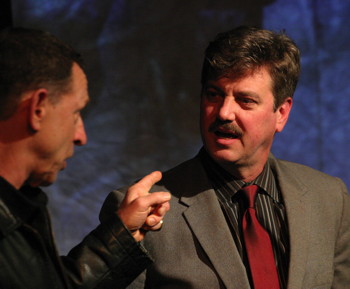 A Steady Rain
2055 S. Sepulveda Blvd.
Los Angeles CA 90025
Performances:
Runs until April 20, 2014

Wednesdays at 8 p.m.: March 19 and April 2 ONLY
Thursdays at 8 p.m.: March 27 and April 17 ONLY
Fridays at 8 p.m.: Feb. 28; March 7, 14, 21, 28; April 4, 18 (dark April 11)
Saturdays at 8 p.m.: Feb. 22 (opening); March 1, 8, 15, 22, 29; April 5, 19 (dark April 12)
Sundays at 2 p.m.: March 2, 9, 16, 23, 30; April 6, 20 (no 2 p.m. matinee on Feb. 23, dark April 13)
Sundays at 5 p.m.: Feb. 23 ONLY
Box Office:
(310) 477-2055 ext. 2 or purchase online here.
TICKET PRICES:
Wednesdays, Thursdays and Fridays: $25.00
Saturdays and Sundays, except Saturday, Feb. 22: $30.00
Pay-what-you-can performances: March 21 (wine night), April 2