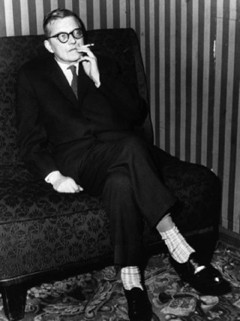 "When a man is in despair, it means that he still believes in something." ~ Dmitri SHOSTAKOVITCH
Regarded as one of the most important 20th Century composers, Dmitri SHOSTAKOVITCH proved his extraordinary talents through his monumental and diversified orchestral repertoire, but also through his amazing Chamber Music works.
Impressed with his first String Quartet, the Moscow-based Beethoven String Quartet asked the Russian Composer to write a piano quintet.
Completed in 1940, his magical piece was premiered on November 23 at the Moscow Academy of Music, by the Beethoven String Quartet with the composer himself at the piano.
As an accomplished pianist, SHOSTAKOVITCH performed the piece many times with the Beethoven String Quartet, and later with the Borodin String Quartet. The work has enjoyed immense success.
You can experience this glorious piano quintet early next month, as well as some other carefully selected and complementary pieces, at the next classical concert event.
Famed for its warmly intimate and interactive stage-free musical experience, LE SALON DE MUSIQUES' latest offering will celebrate the "Russian Soul", featuring chamber music pieces composed by Alexander BORODIN, and Dmitri SHOSTAKOVITCH, along with the Czech Composer Antonin DVORAK.
Principal Cellist of the LA Opera John WALZ will be joined by Jessica GUIDERI and Roger WILKIE on Violins, Shawn MANN on Viola and Robert THIES at the Piano for this performance, which is followed by a reception featuring French Champagne and a Gourmet Buffet catered by Patina.
The concert will be introduced by Musicologist Julius REDER-CARLSON, along with founding Artistic Director and Concert Pianist François CHOUCHAN, with co-Artistic Director Cellist John WALZ. The program features Antonin DVORAK Romance for Violin & Piano in C minor Op 73, Alexander BORODIN String Quartet N.2 in D Major, and Dmitri SHOSTAKOVITCH Piano Quintet in G minor Op 57.
"I am thrilled to present this May 4 "Salon de Musiques" dedicated to these three Genius Composers, DVORAK, BORODIN and especially the wonderful Dmitri SHOSTAKOVITCH," said Founder & Artistic Director Francois CHOUCHAN.

"As my roots are Russian and Polish, I feel really close to this wonderful music, which is so passionate, lyrical, deep and emotional… One can feel the "Slavic Soul" and dream about the beauty of the Steppes, the landscapes covered with snow, but also all the Eastern Europe's Folkloric traditions."
"LE SALON DE MUSIQUES" is a unique musical experience—one like no other in Los Angeles. By removing the stage and putting the artists next to the audience, each performance is a very personal and intimate experience. The concert is being performed on the 5th floor of the Dorothy Chandler Pavilion. An informal Q&A with the artists will follow the performance and a gourmet buffet supper of dainty sandwiches and cakes provided by Patina. French Champagne will also be served.
Tickets are $39 for Student, and $65 (includes supper and drinks) and available for purchase here.
LE SALON DE MUSIQUES  — the "Russian Soul"
Event Information:
Sunday May 4, 2014 at 4:00 pm
The Dorothy Chandler Pavilion, 5th Floor
135 N Grand Ave, Los Angeles, CA 90012
Program:
A. DVORAK: Romance for Violin & Piano in F minor Op 11
A. BORODIN: String Quartet N.2 in D Major
D. SHOSTAKOVITCH: Piano Quintet in G minor Op 57
Performing:
Jessica GUIDERI & Roger WILKIE Violins,
SHAWN MANN Viola,
John WALZ Cello,
Robert THIES Piano.