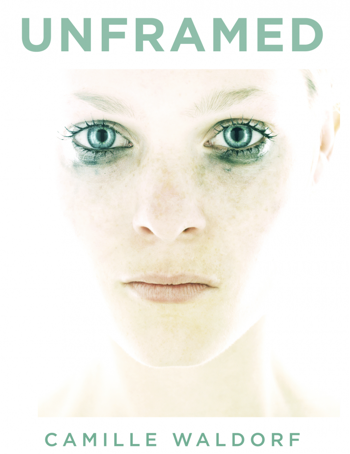 TOMORROW EVE — catch the launch of a new book Unframed at an art exhibit reception.
Unframed is also an art exhibit of figurative works by painter Camille Waldorf celebrating  Waldorf's new book of the same name. The art opening will be held in The Ebell of Los Angeles — the gorgeous art deco building downtown. The reception is free and will take place in this Thursday, April 10, 2014 in the Ebell Art Salon from 5:00pm to 8:00pm.
The exhibition will include twenty contemporary paintings and drawings by the artist, all of which are also featured in the pages of Unframed, which is due out on April 17, 2014, with advance copies available at the exhibition. The 150-page book features work that spans the artist's career. The art exhibit will run for 4 weeks.
Unframed is Waldorf's first book and it features contemporary paintings and drawings, showcasing work that spans her career. It also includes stories about her influences and evolution as an artist.
The main Ebell entrance is located at 743 S. Lucerne Blvd., Los Angeles, CA 90005, at Wilshire Blvd. (323-931-1277).
The Ebell Art Salon hours are Monday through Friday from 10:00am to 4:00pm.
Entrance to the Art Salon, during daytime hours, is at the main entrance.
For the evening reception on April 10th, the entrance is at 741 S. Lucerne Blvd.
Parking is available in a lot on Lucerne. For more information on Camille Waldorf's art, please visit here.
The Unframed art exhibit/book launch event will feature complimentary hors d'oeuvres, a no-host bar, and live harp music by Wendy Tahara, The Heartfelt Harpist. Waldorf will also perform her soon-to-be-released song "Delicate Boy." The artist-actress-musician-model will also sign copies of her new book. Waldorf's expressive art is notable for the intensity and movement in the figurative works. Twisted angular forms and faces depict the family and friends that inhabit her life, some of whom are celebrities. The twenty works in the exhibition are primarily oil paintings on canvas, up to 8 x 12 feet in size. Several acrylic and charcoal works on paper are also included.
The commemorative book, published by Shalimar Media Group, tells Camille Waldorf's life story through a showcase of her work. She offers vivid details and short stories of her evolution as an artist. The paintings span her career while the stories offer insight into the inspirations for her work. Distributed by Over The Edge Books, Unframed will be available on April 17, 2014 in paperback and digitally through online outlets and select retail stores such as Barnes & Noble's, Amazon's Print-on-Demand, and iBooks.
About the artist – Camille Waldorf:
A California native, born and raised in the Santa Cruz area, Camille Waldorf has a background in art, music, dance, horse vaulting, and theatre. She has exhibited her art at Ashley Paige, Mr. Musichead Gallery, Wake Me When I'm Famous Gallery, and the San Francisco Art Institute. Waldorf has also worked as an art director for London-based Schön! Magazine. As an actress, she has appeared in the films Heather's Dream, The Bacchae, Four Reasons, Hell Ride, 29 Palms, and Wildflowers. As a model, she has appeared in Vogue Magazine, Harper's Bazaar, Elle, Details Magazine, TANK Magazine, Rolling Stone Magazine, Flaunt, FAULT Magazine, California Apparel News (cover), and Lemonade Magazine. Waldorf has modeled for Swarovski, Levi Strauss & Co., Miller's Outpost, Skincare Market, Heatherette, Jared Gold, Nathalie Saphier, and Steffi Dobrindt Designs. She attended the San Francisco Art Institute for the B.F.A. program and is represented as a model and actress by Pinkerton Talent. The multi-talented Waldorf is also a musician. She is planning to release a single on iTunes in May 2014. Waldorf lives and works in Los Angeles.
The Ebell of Los Angeles:
The historic Ebell of Los Angeles hosts a wide variety of events, including concerts, plays, dance performances, awards shows, meetings, product launches, art exhibitions, and lectures. The venue participates in and encourages the educational, cultural, and social growth of the Los Angeles community by providing an extraordinary venue to a vast spectrum of international cultures. The location is an architectural masterpiece that brings glamour, elegance, and legacy to events hosted in the space. With two exquisitely detailed ballrooms, an intimate art salon, and a breathtaking courtyard garden, the Ebell presents a variety of sophisticated settings.
Links –
• Camille Waldorf Art on Facebook.
• Unframed Facebook Event Page.