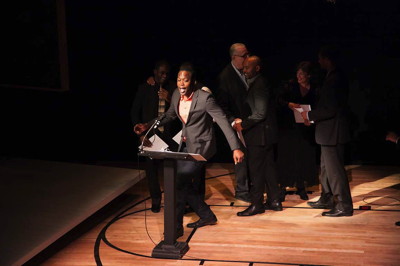 The 45th Annual Los Angeles Drama Critics Circle Awards ceremony took place on Monday, March 17, 2014 at the Colony Theatre in Burbank, and was hosted by actress and comedienne, Nicole Parker. It was a lively event that was well-attended. A group of professional theater critics, the Los Angeles Drama Critics Circle (LADCC), annually gives awards for excellence in theater.
Go here to the offical site see the full list of the winners and recipients of special awards for excellence in Los Angeles and Orange County theater for the year 2013.
All photos by Jayne Calucag.
Here follows a photo essay of some of the awards presenters, winners and talented performers: