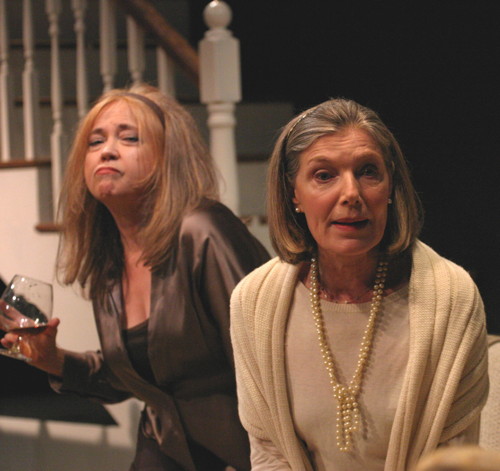 Star of stage and screen — most notably in two Tim Burton feature films — is O-Lan Jones. The actress and musical artist is now appearing in modern American playwright Edward Albee's first Pulitzer-prize winning play A Delicate Balance, and burning up with stage with her wacky, attention-seeking character. The text is scathing and brilliantly written and the sterling ensemble makes it all look so easy… ArtsBeatLA recently chatted with a cheerful but slightly emotionally drained O-Lan Jones, right after one of the three 'opening weekend' performances.
For a moment, Jones struggles to find the words to describe how challenging this role truly is —
"I'm sorry, I don't have my brains after acting it — I've used them all up doing that performance! It's very difficult. I feel all worked up and good afterwards, but my thinking has been used up, because it takes so much attention. The words are so difficult and you wanna get them right. It's so musical — you're performing a quintet, sometimes. These words — they repeat and sometimes they're your cue and sometimes they're not!
"The role itself gives you the opportunity to express some really deep emotions. The role calls up a very raw quality that requires you to go in there, yet keep your mental acuity.  That's the big stretch of it, for me, because I have to go to the rawest places and simultaneously keep my wits about me. You have to function as the thing that blasts this performance out. You're supposed to be wild and completely untamed, so there's this secret taming that you're doing all the time, on the inside, in order to pounce at the right time. But there's a little bit of room to be wild.
"For a long time, the director was giving me this image of a cat, to be a cat because I'm crawling all over the furniture and stuff like that. At first I thought 'house cat' but then it hit me — I realized she's more like a tiger, and that gave a lot more force to my performance."
I asked Jones to tell me about the other creative projects she has coming up —
"I have a non-profit company called Overtone Industries. I'm the composer and we're doing a big new thing in July here in L.A. It will be the first 15 minutes of a new piece. I do new music/theater/opera — I say opera because people are singing all the time. Sometimes I use opera singers, and other times it's just people who can sing beautifully and act.
"I did a big thing a couple of years ago, in huge, empty, 25,000 square foot car dealership, called Songs and Dances of Imaginary Lands. There were trains transporting the audience and the orchestra was also on wheels — it was huge!"
That show was in 2010 and enjoyed a five-week run.
"It got a lot of great coverage and it could have run forever, but I couldn't line up the actors for longer than I did, for the rest of their lives!" she giggles.
"It took everything I knew how to do."
A Delicate Balance is still running at the Odyssey Theatre

Until June 15, 2014

2055 S. Sepulveda Blvd.
,

Los Angeles CA 90025

Wed-Suns. Check website for dates and times.
Box office – (310) 477-2055 ext. 2