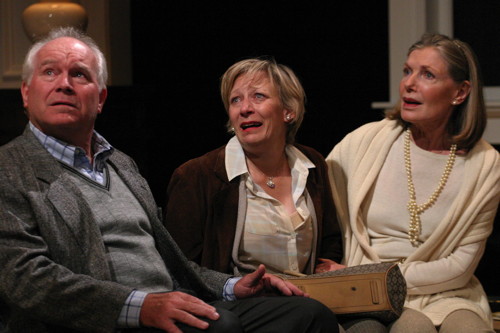 Gentle readers!
Here's a preview of some of my most recent theater reviews for Stage Raw, the new(ish) critical website that recently launched. Stage Raw contains the latest arts and theater coverage from our intrepid team of journalists, including current theater reviews, wide-ranging feature articles on the Arts scene in L.A. and lively columns.
Some links to my recent theater reviews are listed here for your perusal.
Happy reading!
Cats at La Mirada Theatre for the Performing Arts
…Boasting a large cast of dancers and singers prowling around the theater, both on and off the stage, the whimsical musical has endured as a crowd-pleaser, providing perfectly inoffensive and family-friendly fare. The slight storyline focuses on a motley gang of cats that nocturnally inhabit an urban alley crammed with oversized junk. Known collectively as the "Jellical cats," the kitties perform various song-and-dance numbers, which is how we learn what makes them special….
…Apart from the occasional cringe-inducing sour-note from a flute or trumpet, the orchestra gives a decent performance under the John Glaudini's musical direction. The musical's 1980s origins only reveal themselves when some tired old synthesizer sounds come to the fore (then again, the dancers' leg warmers also hearken back to an era that contemporary fashion would sooner forget.)
Though director-choreographer Dana Solimando has done a great job adapting this vivid musical to the spacious La Mirada stage, the quality of the energy is sometimes tepid, as if the cast were conserving their energy — which is odd, given the not-especially challenging dance routines. A notable exception is Todrick Hall, who brings a rock-star swagger and blazing charisma to his performance as the feisty tomcat Rum Tum Tugger…
Everything You Touch at Theatre @ Boston Court
Sheila Callaghan's compelling play examines the dysfunctional dynamic between narcissistic mothers and their daughters, as well as the grim misogyny that pervades the world of high fashion. In so doing, and in a markedly un-naturalistic style, it studies the corrosive effect of residual anger.
Everything You Touch presents incisive dialogue and passages of brilliance, along with some confusing moments. For example, there are scene changes between two decades. These time-shifts, however, are strategic, in order to keep a vital plot point under wraps. However, the delicacy of the play's non-linear timeline and trickster plot gets undermined by some heavy-handed foreshadowing.
That said, director Jessica Kubzansky gives the play an exceptional world premiere. In addition to extracting superb performances from almost all of the players, Kubzansky orchestrates her team of award-winning designers to implement tech elements that both elevate and demonstrate her deep understanding of Callaghan's play.
A Delicate Balance at Odyssey Theatre Ensemble through June 15.
In Edward Albee's first (of three) Pulitzer-prize winning plays (also including Seascape (1975) and Three Tall Women (1994), booze ever-present and consumed, even at dawn. Naturally, the alcohol lubricates the conversation and so we watch the social exchange of this domestic drama grow increasingly feral as the story progresses.
A disillusioned and wealthy older married couple Agnes (Susan Sullivan) and Tobias (David Selby) share their upper-middle-class suburban home with unseen servants and a permanent house guest — Agnes' unpredictable and sharp-tongued alcoholic sister, Claire (O-Lan Jones). The household's precarious equilibrium is rocked one evening by the unexpected appearance of lifelong family friends Harry (Mark Costello) and Edna (Lily Knight). Fellow empty nesters, the nervy and distraught pair appears to be suffering from some kind of free-floating anxiety. Fleeing an unnamed terror, they beg to stay the night. When Agnes and Tobias's bitter 36-year-old daughter Julia (Deborah Puette) returns home following the collapse of her fourth marriage, she finds her room occupied by Harry and Edna, who refuse to leave. Histrionics ensue.
Incidentally, one of Albee's earlier (and best-known) plays, Who's Afraid of Virginia Woolf, was selected for the 1963 Pulitzer Prize by the award's drama jury, but was overruled by the advisory committee, which elected not to give a drama award at all that year. And though A Delicate Balance thoroughly earned that prestigious award, there remains speculation that it was awarded the Pulitzer as a consolation for the earlier rebuff. Call it a "pity Pulitzer," if you will.
As in Virginia Woolf, Albee examines the marriage of a middle-aged couple, scrutinizing the destructive patterns of long-term relationships — the goading banter, the prickly conversations, the provocative digs, the ugly point-scoring, the dredging up of the past, the scathing sarcasm that threatens to boil over into rage.
Blood Relations at The Raven Playhouse through June 15.
Writer-director Sharon Pollock's sluggish two-hour, two-act play attempts to dramatize the mystery of the Lizzie Borden murders with a puzzle-like plot, but her convoluted approach and inept staging simply make for a confusing and excruciating experience.
A willful, independent and (atypically) unmarried woman, Borden was the center of a sensational murder trial, accused in 1892 of the gruesome axe murders of her father and stepmother. A children's skipping rhyme even celebrated this infamous crime. The  eccentric Borden was ultimately acquitted and, though ostracized, remained in her small town of Fall River, Massachusetts; her story still fascinates. Additionally, as the crime remained unsolved, it became the stuff of vivid speculation and legend.
Pollock's psychological murder mystery is well researched and deftly combines historical fact, including trial transcripts, with imaginative fiction and popular theories. Unfortunately, the sometimes arch dialogue — striving for cryptic banter — feels like padding, other times it is inelegantly expository. Jumping back-and-forth between the time of the trial and 10-years later, Pollock's play maybe too clever for its own good, and the acting from this cast lacks the skill to support it.