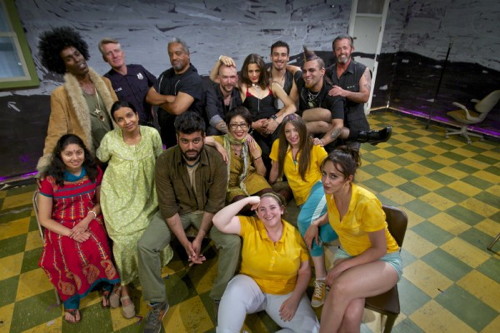 Bliss Point is Cornerstone Theatre Company's latest community-based collaboration in its 5-year Hunger Cycle of plays, and this one deals with addiction and recovery communities. It's a tough theme to get right, and unfortunately Bliss Point falls short.
In order to weave in diverse addiction and recovery stories (from alcohol to overeating, meth to prescription meds), Bliss Point takes the rather lazy route of following a reporter who is doing a story on addiction for Rolling Stone. To do the stories, he goes and interviews members of each community – which is basically Cornerstone's writing process. Writers writing about writers is a personal pet peeve of mine, but playwright Shishir Kurup's character in this case really does feel like a surrogate for the author herself, disconnected from the communities he is meant to be writing about and somewhat awkward about it. We are told repeatedly that the main character needs to 'put himself in his writing'. The issue is, I'm not sure he, or the playwright, has much to say here.
The night I saw the production the reporter lead was played by an emergency understudy, Rikin Vasani, who delivered one of the strongest performances in the piece with script in hand. His mother, played by K.T. Thangavelu, was also exceptional, and their teasing, nagging, wonderful relationship is the crux of this show. I am a big fan of this inter-generational Indian family story with just an element of addiction (the mother is in chronic pain and self medicates religiously), but it fails to convince me why I should care about any of the other stories, which feel unrelated and unnecessary.
There are the Irish meth addicts, who spout poetic text while wearing punk outfits in some of the most striking cognitive dissonance in the show – people don't talk like this. There are the teen girls in recovery, who, while highly entertaining, seem irrelevant to the rest of the plotline. Then there's…well, actor JoDyRay, who is the absolute highlight of the show in a star-turning performance as a sexually ambiguous, sexually abused junkie who is the only one who successfully makes us feel the joys of a high in the first place. He feels bigger than the stage, than the play, like he is just on loan here from his own twisted TV show. The overwritten poetic dialogue, clunky with most of the other characters, is like ambrosia coming from his mouth.
Director Juliette Carillo gets good performances out of non-actors, and though her awkward staging gets better as the play progresses and the surreal elements are well conceived, the blocking in naturalistic scenes slides into unmotivated pacing between furniture. Nephelie Andonyadis's set is simple, with the back wall creating some spectacular effects toward the end. Why there's a coat stand in the middle of the stage, which is never used, is anyone's guess.
Bliss Point sets out with the best of intentions and works to write about and involve underrepresented communities onstage. When Cornerstone's process hits home, it is magical and transformative. In this case, unfortunately, it's just a bit muddled.
***SPOILERS***

A quick note: the end of the show takes us on an Ayahuasca
indigenous medicine trip, which…why? It's a deus ex machina ending whose chances of solving any of the characters problems literally come down to magic. This reviewer, having spent a fair bit of time in the Amazon, would also appreciate at least a little discussion of the problematic appropriation going on when foreigners try to come in and use medicines that rely on a complex alien worldview that they are not a part of. In this play, it's all just 'exotic'. There's also some Jesus stuff, toward the end, which equally misses the point and makes just about everybody Jesus in a move that's sure to randomly offend hardcore Christians and comes across to me as just heavy handed. Ah well.

***SPOILERS***
Bliss Point ran May 29 – June 22 at The Odyssey Theatre.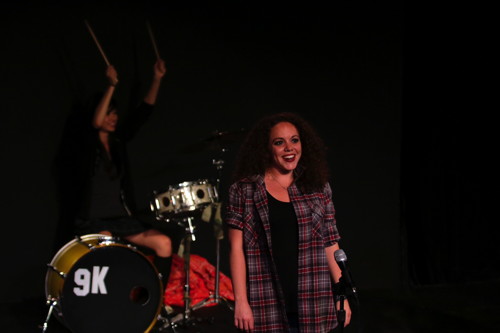 Riot Grrrl Saves the World.
I had heaps of fun. Unpretentious and sweet, Riot Grrrl Saves the World is that rarest of beasts, an ideological show that doesn't take itself too seriously and so ends up being human and moving. The play centers on four Punk Feminist teenage girls who embark on a quest to, yes, save the world. Their tools are music and zines aimed at counteracting centuries of, like, Patriarchal domination, or whatever. Playwright Louisa Hill's juxtaposition of language in the play is a true delight, drawing real insight out of 90's 'like, totally' slang.
Director Scott Marden gets some powerhouse performances out of his young cast, whose tight, emotionally charged acting makes us believe the realities of these girls' lives. Lead Zoë Lillian's shy smile is excitable and sad in turns, always hinting at more, while her love interest Darla (Poonam Basu) delivers a stand-out performance of innocence, discovery, and betrayal. It's also a case of colorblind casting done right, taking advantage of talent with no fanfare. Emma Servant radiates power as the leader of the group, while Tiffany Mo makes us understand and empathize with her character's choices late in the show. The performances make you forget the Fringe-y production values (no designers are listed), and the concert scene in particular would have benefited from a bit more lighting to play with for the audience to really experience the feeling of a punk show. This play deserves a stage of its own so that the setting can match the strength of the performances.
The production is aware that its protagonists are middle-class and that the stakes are not life and death, and it has fun playing with the irony of an impending suburban apocalypse. The irony is effective, creating a portrait of lives whose conflict isn't just with sexism but with alienation and meaninglessness in the modern world. The play never says this explicitly, but the characters' struggles with faith, recognition, and community all hint at it. Don't let me scare you off though – mostly, it's all about girl power and rock 'n' roll. And that is a very, very good thing.
Riot Grrrl Saves the World has two more shows:
Thursday June 26, 2014 at 8:30pm ($10)
Saturday June 28, 2014 at 5:30pm ($10)
At Theatre Asylum (The Elephant Space), 6320 Santa Monica Blvd.
The Best of Craigslist: Live!
The Best of Craigslist: Live! is what you'd expect, which can be either a good thing or a bad thing. Actors come out in costume to do dramatic renditions of bizarre Craigslist postings, from wanted ads to personals. John Pick, the creator of the show and the web series of the same name, introduces the piece and is featured prominently, and the work feels like a friend sitting you down and making you read an hour of Craigslist posts he finds very funny. And really, they ARE – but there's nothing linking them together, and I think the show misses an opportunity to talk about the brave new worlds of connection that the internet opens up to us. The play comes off as a stand-up show or showcase – and as long as that's what you come for, you'll have a rollicking good time.
The laughs are plenty and appropriately absurd, but this show (and its ilk) seem to demonstrate an issue with the Hollywood Fringe Festival. Where the Edinburgh Fringe teems with late-night comedy and stand-up, best appreciated drunk and pressed in with a pack of sweaty bodies, Theatre Row on Hollywood doesn't really provide the atmosphere or the bars to make a show like this pop. The mid-day Sunday showing I attended was an unfortunately slow time shot, but I wonder if evening shows would have fared much better. There just isn't the all-day theatre marathon atmosphere here to make an hour of silly feel worth the drive.
The Best of Craigslist: Live! has two more shows:
Saturday June 28, 2014 at 3pm ($15) and 9:45pm ($10)
At Hudson Theatres (Hudson Backstage) 6539 Santa Monica Boulevard.
Reviews by Brian Sonia-Wallace.