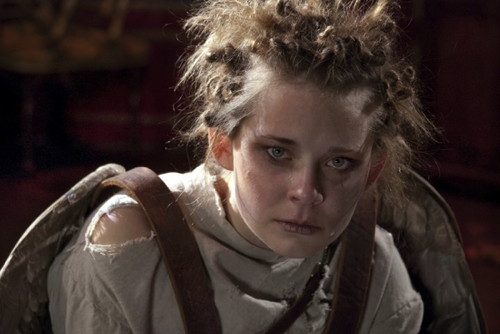 If this production were to play a verb, it would be "to tickle the audience." An intricate European clown cabaret show that ebulliently descends into punk chaos, The Kharmful Charms of Daniil Kharms is a parade of ever-sillier characters marinating in the irrationality of their early 20th Century Russian era. I have to admit, I did want to know more about the life and times of Daniil Kharms, the author of the absurdist short stories upon which the play is based, and felt that an understanding of where he was writing from would have deepened my appreciation of the piece. As much as I enjoyed this zany show, I felt I must have missed out on a lot of its nuances thanks to insufficient context.


The show is at its strongest when it embraces absurdist chaos and celebrates how bittersweet that aspect can be. Highlights include a world-weary fairy godmother, an obsessive letter-writer, portraits of historical figures one-upping each other, and a whole chorus of dusty grandmothers. Some of the sketches in this patchwork cabaret show work better than others, and so it certainly could use some pruning. I wanted the moments of sentimentality and beauty, so revealing of the common thread of the show, to happen much sooner. But when those moments come – like the grandmother in the snow, literally physically falling apart – they are gorgeous and violent and sad. The central premise, it seems to me, is 'shit happens.'

For sheer craftsmanship and force of performance, this play gets a 'go' in my book.

Learn more about this company at their official site.
The Kharmful Charms of Daniil Kharms plays various days and times during the Hollywood Fringe Festival.
Check this show's official schedule for reservations and information.