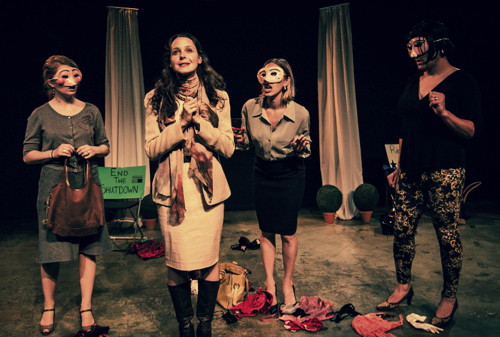 Dear readers!

The 5th Annual 2014 Hollywood Fringe Festival is about to commence and so here are some advance reviews.
Lysistrata by Aristophanes.
Adapted by Savage Players.
This bold and contemporary retelling of Lysistrata beautifully updates the Ancient Greek political comedy to Washington DC and satirizes the recent government shutdown.
In the face of the nation's economy coming to a crashing halt, feisty femme Lysistrata (Anne Butler) conceives of a brilliant plan. She rallies the women of the national capital to unite and wage a revolutionary war to save the country, declaring a citywide sex strike until the men in politics come to their senses. "We will drive them absolutely blue-ball crazy!" she vows. United, the women take an oath to deny the men sex. Hilariously, one of their rally cries is 'Hell no, we won't blow!'
As the tantalizing women storm Capitol Hill, they leave a trail of desperately horny politicians in their wake. Can Lysistrata's bid for peace possibly succeed, or will the strike take its toll on the women as well?
This adaptation is nicely done and, for the most part, performances are okay. The plot is well suited to recent political events and the language has been updated and is highly explicit. (See references to one character as a "complete clit tease,"  for example, and colorful euphemisms for the male member abound.) Massive phalluses are spied bulging beneath pants suits. Basically, the company plays up the sexual themes to the hilt, especially in a hilarious seduction torture scene.
There is, of course, a few issues with the plot. Self-gratification and the available avenue of prostitutes would surely torpedo this scheme. Also, in the original, all the politicians were men, and this needs to remain intact for the play to work. The Savage Players manage that dated element by having some gender bending in the cast, with two performers playing the opposite sex in drag. Hence Caleb Austin plays one of the housewives/politician's wives Lara while Lauren Dunagan has fun playing the misogynist pig House Speaker.
One problem — I'm not sure why Austin as Lara gets groped violently by one of the other women, as this behavior isn't prevalent throughout the play (apart from a horny gang bang later in the show). Apparently it's okay to molest a guy when he's dressed as a woman, then?! Or it's okay to molest a woman if she's really a guy?  Yeah, right…
Lysistrata by Aristophanes.
Adapted by Savage Players
Directed by Josephine Keefe.
Featuring Caleb Austin, Anne Elizabeth Butler, Lauren Dunagan, Julia Keefe, Cassandra E. Nwokah, Angelique Robinson, and Colin Simon
"The Other Space" at The Actors Company
916 A North Formosa Ave.,
Los Angeles, CA 90038
Through June 29, 2014 in the Hollywood Fringe Festival.
Check its official listing for reservations and information.
The Wake written and performed by Ben Moroski.
At the beginning of his one-person play The Wake, Ben Moroski — posing as 'Pete Harrisburg' — rushes in, introduces himself with a self-deprecating "I'm the asshole doing this play," and then hands audience members flyers for this show. Moroski thus places an important distance between him — the writer and performer — and the character's tale that unfolds.
A hyperactive guy in a black suit and thin tie with slicked-back hair, Pete gives us a bit of a prologue to 'the play' by illustrating his recent backstory and explaining how an actor's workshop has helped him get through "the heavy shit."
So at first, we are invited to attend the 'wake' of a dead relationship. Bitter and hostile, Pete was dumped a couple of months ago by Tallie and is still not over it. Gesticulating voluptuously, the play's first hilarious line is "Her ass…" Pete then proceeds with a rancid ode on the bitch who left him, and his sexually explicit and funny text is full of unexpected metaphors and poetic rhythms. But this wake soon gains a new meaning as Pete's story grows darker.
Thematically, The Wake is redolent of Robert Browning's creepy and disturbing 1836 poem Porphyria's Lover — a reference that Moroski says was unknown to him — yet both works are drenched in insanity. You keep waiting for a shoe to drop, and when it does, it's dazzling.
Directed by Nick Massouh, Moroski's writing is searingly brilliant and his performance is intense, gripping us in the palm of his hand for the hour's duration. Intense, profane, hilarious and tragic, The Wake is a tour-de-force show that charges ahead at a breakneck speed.
The Wake written and performed by Ben Moroski.
Directed by Nick Massouh.
Elephant Studio Theatre
1076 Lillian Way
Los Angeles, CA 90038
Through June 28, 2014 in the Hollywood Fringe Festival.
Check its official listing for reservations and information.