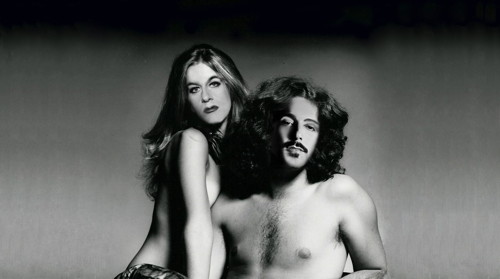 80s dance tunes and dazzling choreography that features plenty of sky-high kicks and ball-busting splits!
Our favorite hirsute high-kicking heroine Connie is back with a brand new show that picks up where Connie Loves Juice left off.
Directed by Jim Fall, Desperately Seeking Vickie features lovebirds Connie (John Cantwell) and Juice (Mario Diaz). The newly married pair are quite smitten with each other, yet all is not well in honeymoon land…
Connie's sweet little kitty Vickie (Katie Malia) is feeling completely left out and disgruntled. Not happy with being a third wheel, naughty Vickie runs away to NYC.
What lies in wait for Vickie in the big, bad and dangerous city?

Will Connie and Juice's love survive when they realize their beloved pet has gone missing and is in major danger?
With supporting cast members Dean Elix Bais, Jennifer Dohn, Arne Gjelten and Natalya Oliver playing over forty characters in the fast-paced, pop-tuned infused 50 minute show, Desperately Seeking Vickie is a roller coaster ride of non-stop dancing with high energy choreography devised by Benjamin Allen, Kathryn Burns and Ryan Heffington.
Like Cantwell's previous Cavern Club shows, Love, Connie and Connie Loves Juice, this new piece once again features a pulsating soundtrack of '70's punk and '80's pop mixed by Mr. Dan, hilarious photo montages by David Kittredge and tons of (obscure and not so obscure) pop culture nods to Body Double, Jailhouse Rock, Vanilla Ice, Debbie Harry, Jaws, Grease 2, Youthquakers, Supermodels, Beyond The Valley Of The Dolls, Fatal Attraction, The House Of Extravaganza, All That Jazz and yes, the 90s classic movie that introduced pop star Madonna as an actor — Desperately Seeking Susan.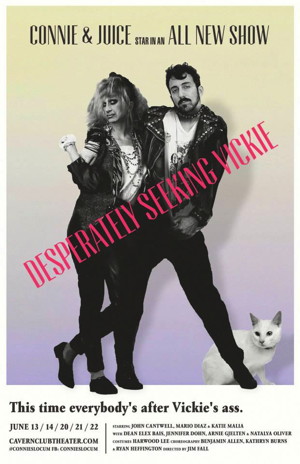 Desperately Seeking Vickie.
Performances:
All shows at 9PM (except Sun June 22 — 7PM)
Friday June 13
Sat June 14
Fri June 20
Sat June 21
Sun June 22 — 7PM
Tickets are $20.00 ($21.69 w/service fee)
Pre-purchase highly recommended (Show will sell out.)
The Cavern Club @ Casita Del Campo
1920 Hyperion Ave.
Los Angeles, CA 90027