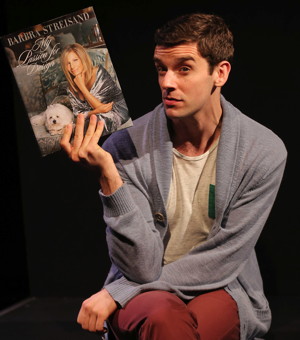 Dear #LAThtr peeps!
My newest theater review for the critical website Stage Raw — which contains the latest arts and theater coverage from our intrepid team of journalists & critics — is out now.
Happy reading!
Sweet and snarky, with a few cheap shots and a lot of belly laughs, Buyer & Cellar is a hilarious one-person show about a struggling actor's brief period of working for a major celebrity.
Like a boyish and playful pixie, Michael Urie bounds onto the sparsely furnished all-white stage and regales us with an episode that he coyly hastens to assure us "is a work of fiction." He claims he's going to play a guy named Alex More in a made-up play written by Jonathan Tolins. "The premise is a little preposterous," Urie insists, with all the enthusiasm of a person striving to dodge a nasty lawsuit. Of course, we're all conspiratorially brought into his little joke.
Without altering his persona — that of a charming young gay guy — eventually he reveals that the other main character in his story is Barbra Streisand. Urie also claims he doesn't perform impressions. "I don't 'do' her, I'll just be her in conversation," he promises. "None of this is real," he reminds us once again. Indeed, his impression of Barbra is of a hunched over, wry-smiling and murmuring older woman who flicks her hair and rolls her tongue around her mouth. It's more like a drag queen's muted version of Cher than anything else, but it works.
Go here to read the rest of this review…
Buyer & Cellar is playing at the Mark Taper Forum, in downtown L.A. through August 17, 2014.