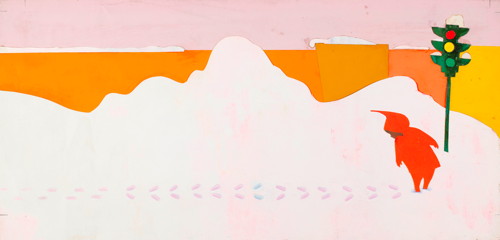 The Snowy Day and The Art of Ezra Jack Keats is a wonderfully magical and thoughtfully designed exhibition currently on view at the Skirball Cultural Center. It traces the life and career of this important and groundbreaking artist — notably the author and illustrator of the classic The Snowy Day kids book. On view are several pieces of his marvelous art works as well as the labor that went into the whimsical and socially relevant books produced by Ezra Jack Keats throughout his long and productive career. By the end of his life, Keats had illustrated more than eighty books — most of them for children — twenty-two of which he also authored.
This gorgeous and kid-friendly exhibition runs through September 7, 2014 and is not to be missed! Adults will be equally engaged by this delightful exhibit.
Additionally, the museum's permanent Noah's Ark interactive exhibit is also perfect for small children, so that's definitely worth adding to your visit.
Background:

Ezra Jack Keats was a children's book illustrator and author who was especially productive in the 1960s and 1970s. He is best remembered for "The Snowy Day" (1962). Keats' landmark picture book represents an historic milestone, being the first full-color children's picture book to feature an African American protagonist. A Caldecott award winner and staple on many nursery bookshelves, this wondrous tale of a young child's first snowfall paved the way for multi-cultural representation in children's literature. Keats not only featured a wider range of young protagonists, his stories were set in the streets of Brooklyn, where he himself grew up a poor Jewish immigrant child, and included graffiti, trash cans, stoops and the like.

These gritty landscapes were represented in a unique style imbued by highly saturated color, collage, hand-made marbled paper and more. Keats' illustrations are gorgeous and his stories utterly beguiling. The exhibition shares some of his artistic techniques, as well as opportunities for visitors to read his books and make their own artworks.
With over eighty original works that span the breadth of Keats' creative process, the works on display range from preliminary sketches to numerous final, gorgeously rendered paintings that served as full-page illustrations for his popular authored books. Organized by The Jewish Museum in New York, The Snowy Day is a traveling exhibition that concludes at the Skirball.
Importantly, this is not a 'turn-key' exhibition. Robert Kirschner, the Skirball Cultural Center's director, spoke of "months and years of preparation," emphasizing how his staff have carefully adapted this collection for exhibit at his venue. Information cards are set at 'kid' height, plus various installations, such as a representation of a snowy path and a custom-built New York 'stoop,' enhance the experience.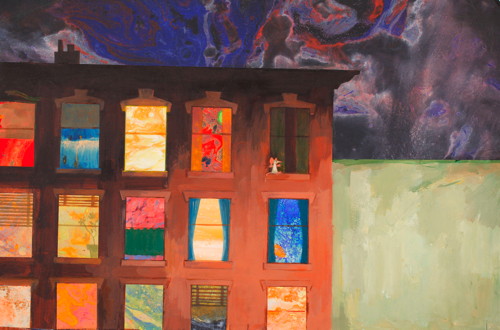 Added curator Erin Clancy, "This is a really beautiful exhibition and we concentrated on placing the focus on the context of the art." Commenting on the abundance of sweet paintings and their specific subject matter, Clancy described Keats as a "an artist, a humanitarian and a socially engaged person." The child of Jewish immigrants, Keats grew up in impoverished Brooklyn during the Great Depression. Adds Clancy, "Keats painted what he knew and set his stories in his own neighborhood. The Snowy Day was a watershed moment as it was the first time that an African American protagonist appeared in a children's book." Finally, a whole segment of society — particularly children — could see themselves and their experiences reflected in a book.
In a nod to one of Keats' books, Goggles!, the whimsical exhibition provides yellow glasses so that kids can step into his world and characters. Adds Clancy, "Keats' work was all about empathy and putting yourself into other people's shoes."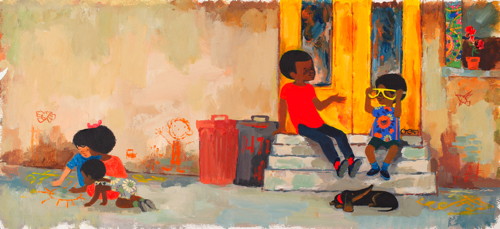 The Snowy Day and The Art of Ezra Jack Keats
The Skirball Cultural Center
2701 N. Sepulveda Blvd.,
Los Angeles, CA 90049.
Free on-site parking is available.
Exhibition runs through September 7, 2014.
More information about the museum's opening dates & times and exhibition-related programs is available at their official site here.
About the Skirball

The Skirball Cultural Center is dedicated to exploring the connections between 4,000 years of Jewish heritage and the vitality of American democratic ideals. It welcomes and seeks to inspire people of every ethnic and cultural identity. Guided by our respective memories and experiences, together we aspire to build a society in which all of us can feel at home. The Skirball Cultural Center achieves its mission through educational programs that explore literary, visual, and performing arts from around the world; through the display and interpretation of its permanent collections and changing exhibitions; through an interactive family destination inspired by the Noah's Ark story; and through outreach to the community.

Visiting the Skirball

The Skirball Cultural Center is located at 2701 N. Sepulveda Blvd., Los Angeles, CA 90049. Free on-site parking is available (except during Sunset Concerts, Thursday evenings, July 24–August 28, 2014); street parking is strictly prohibited. The Skirball is also accessible by Metro Rapid 761. Museum hours: Tuesday–Friday 12:00–5:00 p.m.; Saturday–Sunday 10:00 a.m.–5:00 p.m.; closed Mondays and holidays. Museum admission: $10 General; $7 Seniors, Full-Time Students, and Children over 12; $5 Children 2–12. Exhibitions are always free to Skirball Members and Children under 2. Exhibitions are free to all visitors on Thursdays. For general information, the public may call (310) 440-4500 or visit their official site here. The Skirball is also home to Zeidler's Café, which serves innovative California cuisine in an elegant setting, and Audrey's Museum Store, which sells books, contemporary art, music, jewelry, and more.