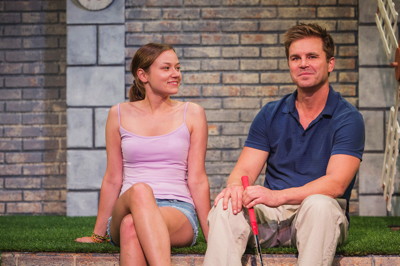 Neil LaBute is considered one of the most controversial playwrights of our day. Not all of his plays are equally brilliant — why would they be? — but it's evident that some of the New Yorker's social commentary dramas are more satisfying to experience than others.
In A Dark Dark House is an interesting work but certainly not one of the greats… Notably absent in this complex drama about the legacy of child abuse is the edgy, ironic humor LaBute is known for presenting. Additionally, the play, with its idiosyncratic stilted dialogue, suffers from a bumpy rhythm and the current production at the Matrix, directed by Larry Moss, never quite gains an even stride. John Iacovelli's scenic design serves the three distinct acts well and the scene changes are elegantly and efficiently handled.
Essentially a study of the fractured relationship between two brothers, In A Dark Dark House has an inciting incident lead to the reuniting of estranged siblings that, in turn, unearths some dark secrets between the pair. Over the course of three acts we see the emergence of deep-seated jealousy, dysfunction and festering resentment explosively spilling to the surface.
The acting is good from all. Shaun Sipos is fine as the immature and reckless younger brother Drew. Aaron McPherson plays the older, angrier brother Terry and in the scenes the two actors share, he isn't given a lot of opportunity to display much of a range beyond degrees of fury. In the middle act, however, McPherson shows a softer side when he's flirting with the third character, a fifteen-year old girl named Jennifer. Annie Chernecky as the teen manages to convey a perfect blend of awkwardness and the coquettish enthusiasm of her sweet and playful character. Act Two does present a unique and interesting plot trajectory, although it's questionably all too easy for Terry to pursue his quest.
LaBute's convoluted plot is intriguing for the most part, but unfortunately way too much plot and shocking revelations come flooding out during the final fifteen minutes.
In A Dark Dark House was first staged in New York in 2007. This guest production at the Matrix marks the drama's Los Angeles premier.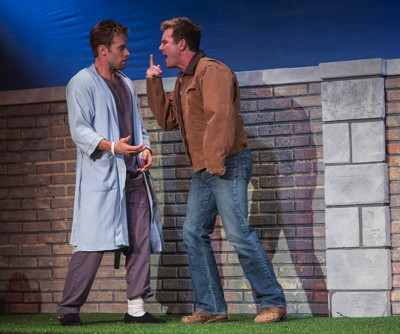 In A Dark Dark House by Neil LaBute.
Broken Hand Productions at the Matrix Theatre
7657 Melrose Avenue
Los Angeles, CA 90046
(west of Stanley Ave., between Fairfax and La Brea)
Performances:
Thurs.-Sat., 8 p.m.; Sun., 3 p.m.
Runs through August 31, 2014
Tickets:
323-960-7612 or online.
General Admission: $34.99