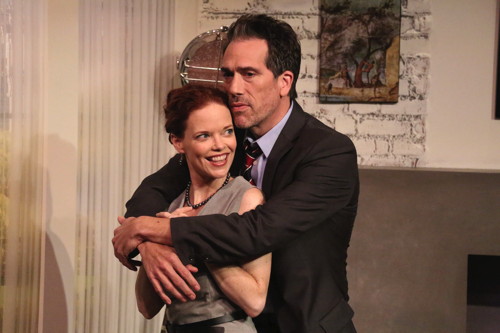 Ann Noble gives a magnificent performance in Edward Albee's absurd drama The Goat or, Who Is Sylvia?, now playing at the Los Angeles LGBT Center's Davidson/Valentini Theatre.
Ostensibly a study of the irreparable destruction of a perfect marriage, Albee softens us up with his dry humor and jokey lines swirling around a bizarre premise, and then charts the disintegration.
Under Ken Sawyer's excellent direction, the cast of four ride the rough seas of this emotionally taxing oceanic surge. Supporting players Matt Kirkwood and Spencer Morrissey give decent performances as the couple's best friend Ross and their son Billy, respectively.
But it is Ann Noble and Paul Witten as the couple in crisis who command the stage with performances that almost defy description. A man at the pinnacle of an illustrious career, acclaimed architect Martin (Paul Witten) confesses a dark secret to his best mate Ross, who feels impelled to divulge to Martin's wife Stevie. Consequently, all hell breaks loose. Witten has to sell us on his predicament and he does so with an astounding range of conviction and finesse.
The play calls for Stevie to navigate various stages of apoplectic rage and clipped fury. The countless hues and degrees of anger that Noble achieves within this 90-minute drama are impressive. Alternating from grief to scathing sarcasm, Noble's character is, at times, terrifying, especially when she starts lashing out at the decor of their chic abode (scenic design by Robert Selander) and smashing things. "You've broken something and it can't be fixed!" she laments.
Albee captures Stevie's anguish and horror so brilliantly and even fashions a cathartic ending that alludes to its roots in Greek tragedy.
Do not miss this funny and devastating play.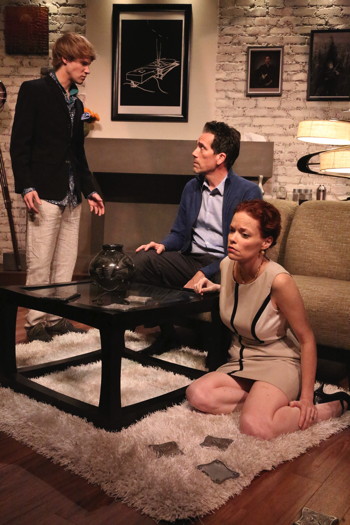 The Goat or, Who Is Sylvia? by Edward Albee.
The Davidson/Valentini Theatre
at the Los Angeles LGBT Center's Village at Ed Gould Plaza,
1125 N. McCadden Place
(one block east of Highland, just north of Santa Monica Boulevard),
Hollywood.  Free onsite parking is available.
Runs through November 23 with performances on Friday and Saturday at 8pm and Sunday at 7pm.
Admission for regular performances is $30. [All tickets purchased online before August 19 receive a $5 discount.]  Tickets are available online here, or by calling (323) 860-7300.