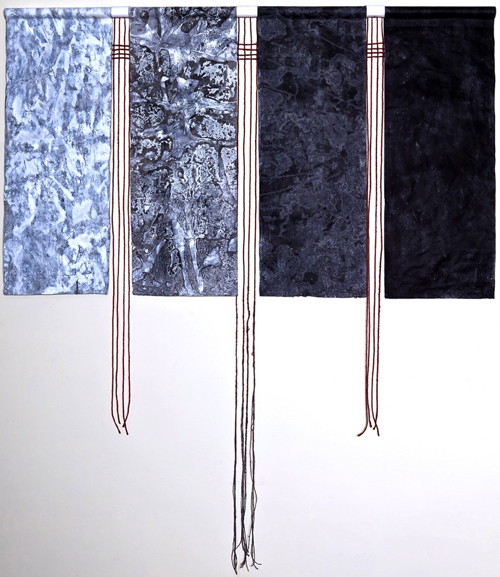 Award-winning painter Pam Douglas explores the cycle of birth and death in an exhibit of new works entitled The Long Thread.
The exhibition opens September 2, 2014 (and runs through September 27, 2014) at Bergamot Station's TAG Gallery in Santa Monica and features seven large-scale original paintings on silk and rice paper.
Special TAG Gallery events include an Artists' Reception on Sept. 6th and an Artists' Talk on Sept. 20th.  More information below.
These large pieces—some almost seven feet high—continue the artist's experimentation with the delicate medium of raw silk. Douglas has also introduced natural fibers such as textured rice paper, and the rougher textures of string, twine and rope, which are applied to the surface to create evocative shapes, as well as hung to create forms and patterns with the negative space. Working with free-hanging fabric has allowed the artist to explore larger dimensions, while the cord, twine and rope allowed Douglas to explore three-dimensional space.
"While making this series, a baby was born in my family, and a friend was dying," says Douglas. "I hadn't planned a cycle of life theme, but as the pieces evolved, the show became a metaphor. The underlying meanings were unconscious at first, then intentional as I searched for titles."
As with all her previous series, Douglas reveals her admiration for Asian art, using inks and water-based mediums, silk, and rice paper. Several of these pieces hang from wood dowels that recall Japanese and Chinese scroll paintings, which at first appear abstract, but on a deeper level, reveal a story about the continuous cycle of birth, death, and birth.
 In The Long Thread Douglas will exhibit 7 paintings:
–  The Four Phases (60" x 50"; inks on rice paper with painted string). Four rice paper panels progress from white to black through richly textured grays, suggesting phases of life. Red strings in groups of four continue the careful balance. Understated elegance blends with innovative use of materials in this Asian-inspired statement.
–  Life Comes With Strings Attached (60" x 30"; inks & acrylic on silk with painted string). From the curved black plastic crest at the top, through strings that turn from black to deep red and finally white, this mixed media work gathers passion as the strings traverse abstract swaths of red on silk. More aggressive than the others in this show, it calls up passages that are not easy.
–  The Golden Thread (75" x 32"; Inks & acrylic on silk & rice paper with thread). In some metaphysical literature, the "Golden Thread" describes the soul's journey through life and beyond. In this large work, gold cord surrounds an egg-like shape at the top and crosses a rough-hewn boundary of textured rice paper to reach round shapes below that bring to mind an ovum. Whether seen as a fertility totem or an image of all creativity, this combines bold shapes with subtly textured tones.
–  The Source Within (75" x 64"; inks & acrylic on silk with painted string): Indigo strings cascade through a divide of bronze and gold on silk panels, like a source of bright energy opening into birth. The anatomical suggestion is abstracted onto partly transparent fabric to create an impression of layers in this scroll-like mixed media painting that is almost seven feet high.
–  Ladder for Peter (72" x 15"; inks & acrylic on silk with rope ladder). Says Douglas, "My friend Peter told me he believes in an afterlife. So I made him a ladder to heaven." Three silk panels climb a rope ladder moving from earthly flowers on green, through a sole figure ascending sky blues, and finally to the top panel where blues graduate to deep purple, and dandelion seeds fly away. This is the only piece in this show with figurative elements, but, like the others, it combines unexpected materials – hard and soft.
–  Sail Away in Peace (68" x 36"; inks & acrylic on silk with painted jute). Delicate panels of silk evoke sails blowing in a gentle breeze, while the tough jute on which they are suspended might suggest a boat's rigging. "This is part of a meditation on my friend's imminent passing, wishing him a peaceful journey," she explains.
–  Origin (52" x 58"; inks & acrylic on silk with painted string). A tangle of strings in the center evokes a nucleus or a seminal moment. Pulled out to expanding rays, the strings lead the eye through silk painted with yellows and warm tones to deep blues at the perimeter. Hung on dowels like a scroll, this mixed media painting feels like a celebration.
Two Special Events for The Long Thread:
Saturday, September 6thfrom 5 PM to 8 PM: Pam Douglas will be present at the Artist's Opening Reception at TAG Gallery at Bergamot Station in Santa Monica, which will also include solo shows by two other artists.
Event is free and open to the public.
Saturday, September 20thfrom 5 PM to 7 PM: Artists' Talk, a discussion among the 3 artists.
Event is free and open to the public.
 About the Artist:
Pam Douglas, whose work is widely collected, had a 6-month exhibit at the California African American Museum and has also been exhibited at The Los Angeles County Museum of Art (LACMA). Juried shows include TarFest, i-5 Gallery at the Brewery Art Complex, The California Open, Arena One Gallery, Gallery Five08 in Santa Monica, and the Palm Springs Fine Art Fair. Her work was critically acclaimed by James Bae, who wrote, "These paintings are stunning tropes of singular instances… never repetitive but endlessly unpredictable… transcending the scope of traditional arguments on how nature can be represented. Like fire, they have their own way of being alive."
Douglas is a member of California Artists Coalition of Los Angeles (CACLA) and Women Painters West. She is also an award-winning writer and professor at the USC School of Cinematic Arts.
The Long Thread runs from September 2—27, 2014.
TAG Gallery is located at Bergamot Station,
2525 Michigan Avenue D3 in Santa Monica.
Normal gallery hours are:
Tuesday through Saturday 11AM – 5PM; and Sunday afternoons.
For more information, call TAG Gallery at 310-829-9556 or visit them online here.
For more information about Pam Douglas and her work, visit her website here.