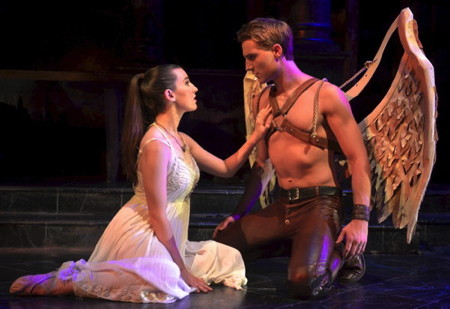 Dear #LAThtr fans,
Here follows the introduction to my latest theater review for Stage Raw.
Happy reading!
Psyche: A Modern Rock Opera by Cindy Shapiro.
The ancient Greek myth of the challenged romance between Psyche and Eros is the well from which sprang numerous Princess-themed fairytales. Cinderella, Beauty and the Beast — even echoes of the Pandora, Eurydice and Hercules myths can be detected in this early story of passion, jealousy, betrayal and redemption.
A god becomes enamored with a beautiful mortal, much to the chagrin of his possessive mother who sets up various tests to thwart their romance.
Creator Cindy Shapiro has fashioned a vibrant and exciting rock-opera from this richly romantic source material, investing her book, music and lyrics with a magical blend of timeless antiquity combined with the contemporary. Pounding drums and haunting electric guitar riffs are underscored by mournful cello and sweet strains of violins. What the songs may lack in musical variation is well compensated by dynamic tunes and matched by energetic dance routines. Janet Roston's superb choreography is fluid and, at times, percussive such as when it occasionally incorporates claps and fleshy slaps into the casts' movement. Some of the chorus members (singers and dancers) even glide into 'tissue' silk hammocks for some acrobatic gestures while our heroes occasionally ascend a two-level trapeze swing. A highlight is the exuberant undulating waves of movement when Eros falls in love.
Go here to read the remainder of this review.
Psyche: A Modern Rock Opera — Book, music and lyrics by Cindy Shapiro.
Performances: Thursdays, Fridays and Saturdays at 8pm; Sundays at 7pm.
Runs through Sunday, September 28 at the Greenway Court Theatre, 544 North Fairfax Avenue in Hollywood.
Tickets: $34.99 – available online here – or call 323.655.7679 x100