There's a spot in the middle of one of the large exhibition rooms at LACMA where, if you stand and turn in 360 degrees, your eyes will drink in a glorious riot of color and shapes. Now in its last days, the magnificent and comprehensive exhibition Expressionism in Germany and France: From Van Gogh to Kandinsky traces the evolution of modern art styles, in particular how the French artists influenced their German contemporaries, and vice versa.
Thoughtfully grouped, the dazzling exhibition of over a hundred precious art works clearly demonstrates the emergence of Cubism from the free-flowing and experimental Impressionistic style.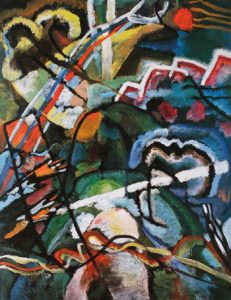 From the press notes:

Expressionism in Germany and France: From Van Gogh to Kandinsky sheds new light on the extraordinary response of artists in Germany and France to key developments in modern art in the early 20th century. For the first time in a major museum exhibition, Expressionism is presented as an international movement in which artists responded with various aesthetic approaches to the work of modern masters such as Vincent van Gogh, Paul Cézanne, and Paul Gauguin.

The exhibition features Post‑Impressionist, Fauvist, and Cubist paintings by more than 40 artists—including Cézanne, van Gogh, Gauguin, Henri Matisse, Robert Delaunay, and Paul Signac—that the Expressionists, such as Wassily Kandinsky, Ernst Ludwig Kirchner, Gabrielle Münter, and Franz Marc, were able to see in landmark exhibitions and collections in Germany and on their travels to Paris.

Ninety paintings and 45 works on paper tell the story of the extraordinary cultural dialogue taking place amongst artists of the time. The exhibition features numerous loans from major museums in the United States, France, Germany, Switzerland, and the United Kingdom, and various private collections.
Expressionism in Germany and France: From Van Gogh to Kandinsky
Los Angeles County Museum of Art (LACMA)
5905 Wilshire Boulevard (at Fairfax Avenue)
Los Angeles, CA, 90036
323 857-6000
Hours:
Monday, Tuesday, Thursday: 11 am–5 pm;
Friday: 11 am–8 pm;
Saturday, Sunday: 10am-7 pm;
closed Wednesday
General Admission:
Adults: $15; students 18+ with ID and senior citizens 62+: $10
Free General Admission:
Members; children 17 and under; after 3 pm weekdays
for L.A. County residents; second Tuesday of every month; Target Free Holiday Mondays
Exhibition closes Monday September 14, 2014.