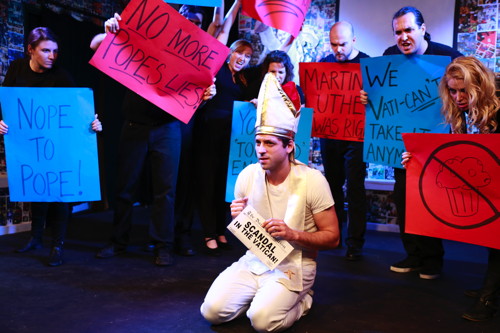 Hello dear #LAThtr goers!
Here is an intro and link to my newest theater review for the critical website Stage Raw — which contains the latest arts and theater coverage from our intrepid team of journalists & critics.
Happy reading!
POPE! An Epic Musical
These are exciting times for Catholics worldwide. Ever since their current religious leader, his Holiness Pope Francis was appointed last year, he has been making headlines for his lenient doctrines and humanitarian proclamations, ushering in a new era for this notoriously hard-line religion.
Unfortunately Justin Moran and Christopher Pappas' new work POPE! An Epic Musical only superficially touches on contemporary political issues, preferring to tell a slight and resolutely upbeat comic-book story of a young man's dream being dashed and his heroic battle to restore it.
Jase Lindgren plays the ironically-named Pope, a nerdy yet handsome young man who's always yearned to be the Pope. In the course of his first song ("Oh I Hope"), time accelerates rapidly from an awkward teenage party — where Pope refuses to kiss a girl because he wants to remain celibate — to his magically ascending to the prestigious post as head of the church. Pope reveals his goal of having all the Catholics in his control but then proceeds to alienate and bore his clergy to death with homespun, off-the-cuff homilies that use blueberry muffins as analogies for one's faith and life's path ("Muffin Mass"). Nevertheless, beyond the grumbling inner sanctum his general approval rating is high — 98% — so Pope goes on tour to win over the remaining 2% of his flock. He has every confidence he will succeed, stating, "I have faith — duh!" and sings about how it's "dope being the Pope."
Read the rest of this review here.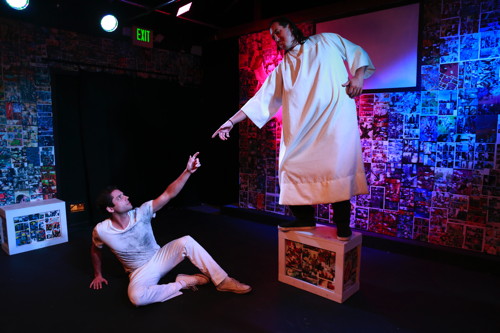 POPE! An Epic Musical
Book and lyrics by Justin Moran; music by Christopher Pappas.
Theatre Unleashed at The Belfry,
Upstairs at the Crown,
11031 Camarillo Street,
North Hollywood
Sat. & Mon., 8 p.m.;
Sun., 7 p.m.
Runs through Nov. 17, 2014.
(818) 849-4039
Note:
Theatre Unleashed are proud to continue their work with local and national charities.
As such, proceeds from the Pope! box office will be going to the Susan G. Komen for the Cure.