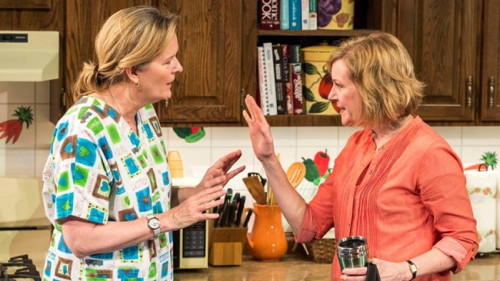 It's not often that the abrupt extinguishing of stage lights at the end of Act One elicits an audible and nervous gasp from the audience, but that's what happened when the plot of Luna Gale took an interesting trajectory. What unfolds, and is resolved, in Act Two leads us through tense moments and unexpected turns.
In tackling the thorny sociological issues of child care, playwright Rebecca Gilman ensures there is a lot to care about in her high-stakes drama. We first meet young parents Karlie (Reyna de Courcy) and Peter (Colin Sphar) holed up in an otherwise empty hospital waiting room. Twitching and nervous, Karlie is bouncing off the walls while Peter's virtually catatonic — clearly both are high on something. Their drug-induced states are not lost on social worker Caroline (Mary Beth Fisher), who wastes no time in telling them they will need to go to rehab if they want to regain custody of their infant child. Caroline then assigns custody of the baby to Karlie's well-meaning mother Cindy (Jordan Baker), not realizing that all hell is going to break loose. The more Cindy tries to help Luna, the deeper she becomes mired in the convoluted world of institutionalized child care — a world she knows all too well.
Fully imported from Chicago's Goodman Theatre, and directed by Robert Falls, CTG is mounting this impeccable production at the Kirk Douglas Theatre. Mary Beth Fisher is outstanding as the seasoned social worker Caroline — a truly complex characterization of a clearly overworked government employee who, miraculously, has managed to maintain a high level of sympathy tempered with pragmatism.
Todd Rosenthal's ingenious set revolves to reveal several intricately designed rooms, lending an inescapable verisimilitude to the proceedings.
Luna Gale grips you on the inside with its tense undercurrent of imminent threat; chillingly, the fate of more than one character hangs in the balance.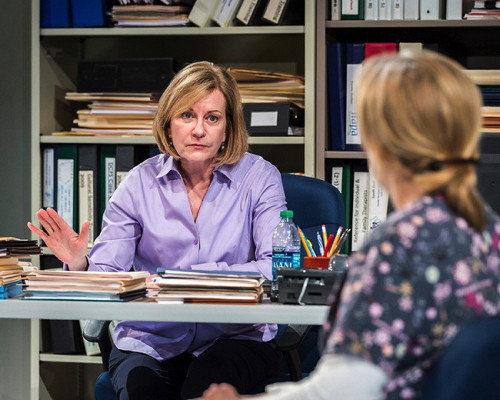 Luna Gale
Kirk Douglas Theatre
9820 Washington Blvd., Culver City
Runs until December 21, 2014.
8 p.m. Tuesdays-Fridays, 2 and 8 p.m. Saturdays, 1 and 6:30 p.m. Sundays.
$25-$55.00 (ticket prices subject to change)
Info: (213) 628-2772 or here.
Running time: 2 hours, 5 minutes